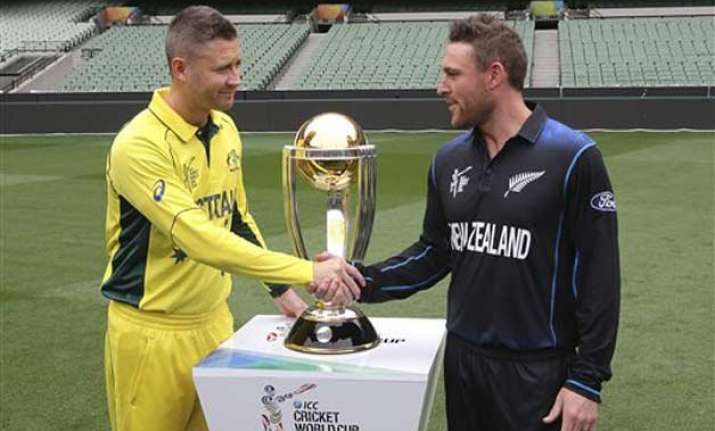 New Delhi: The breath-taking World Cup 2015 grand finale is all set to woo sports enthusiasts at Melbourne Cricket Ground (MCG) on Sunday.
From 14 teams, the tournament has drilled down to mere two – Australia and New Zealand. The duo are also the co-hosts and traditional rivals who will now be against each other at 'G' to lift the coveted trophy.
On one hand, where New Zealand would like to put the first ICC title in its kitty and take home World Cup, the top-runner Australia also seems desperate to end its 8 years drought of any major tournament win.
As is learnt, Michael Clarke would also be leading his side for the last time as he has announced his retirement from ODI cricket. Hence, no doubt, he would like to finish on a winning note and for that his players will have to be at their best to bid him a perfect adieu.
Also read: Michael Clarke to retire from ODIs after the World Cup
Earlier, New Zealand thumped South Africa in a nail-biting match while the defending champion India got ousted by the Australians in semi-finals.
The last time Australia, New Zealand met in this edition, was in group stage at Auckland where the Kiwis defeated Aussies in a tense 1 wicket win.
The final, on Sunday, will also recall the infamous under-arm incident of 1981 by Aussie bowler Trevor Chappell at the same venue.
Also read: Underarm incident recalled as Australia-NZ prepare for final
Apart from world championship, the final will also be the battle of self-respect for both the opponents.
So far New Zealand has won all its games including group stage, quarterfinal and semi-final on its home ground and this World Cup is the first occasion when it will play on foreign soil. This has made the Australians much more favorites at their home ground than the most consistent kiwis.
We bring to you the five players to watch out for from both the finalists who will be the key to their respective sides on Sunday: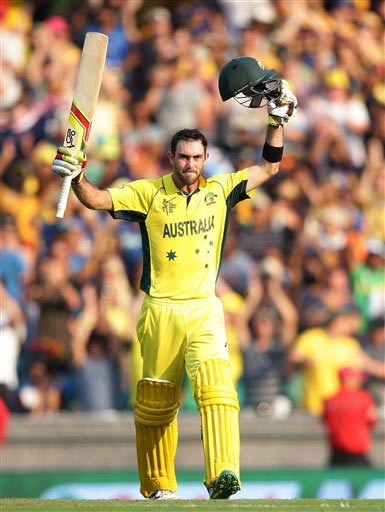 1) Glenn Maxwell (Australia)
Handy with both bat and the ball, Glenn Maxwell is the only quality spinner in the Aussie squad, apart from Doherty, who played just one match. He has been in great form with the bat. First, he scored 66 against England in Australia's opener before a quick-fire 88 against Afghanistan. He, then, produced a blazing century against Sri Lanka, coming within a ball of posting the fastest-ever World Cup hundred in 18 balls, before chipping in a handy unbeaten 44 against Pakistan and 23 against India.
He currently has the third-highest strike rate in the tournament behind Brendon McCullum and Andre Russell, and is second the Australian runs tally with 324 at 64.8.
He provides an option of the 5th bowler as well as the middle order batsman. If the New Zealanders can be troubled by some spin, it will be only Maxwell's right arm off-break.
 
 

 
2) Mitchell Starc (Australia)
The second leading wicket-taker for the tournament will be against the leading one, Trent Boult. Mitchell Starc has been brilliant for Australia with 20 wickets at an average of 10.20 while maintaining a miserly economy rate of 3.65.
He almost single-handedly stole the match for Australia against New Zealand in Auckland when he took a devastating 6-28, while against Scotland he collected 4-14. He has been consistent throughout the tournament, picking up two wickets in each of his five other outings.
 

 
3) Brendon McCullum (New Zealand)
The Black Caps skipper Brendon McCullum has shown he will not take a backward step this tournament and has shown little intention of changing his attacking game plan. He will go hard from ball one and if it comes off, he could be the match-winner.
The skipper scored the fastest World Cup fifty of all time, earlier in the tournament against England, taking James Anderson and Stuart Broad to task, while his 59 off 32 balls against South Africa in the semi-final set up the Black Caps' chase. Overall he has 328 runs for the tournament at 41, including scores of 77 against England, 65 against Sri Lanka and 50 against Australia.