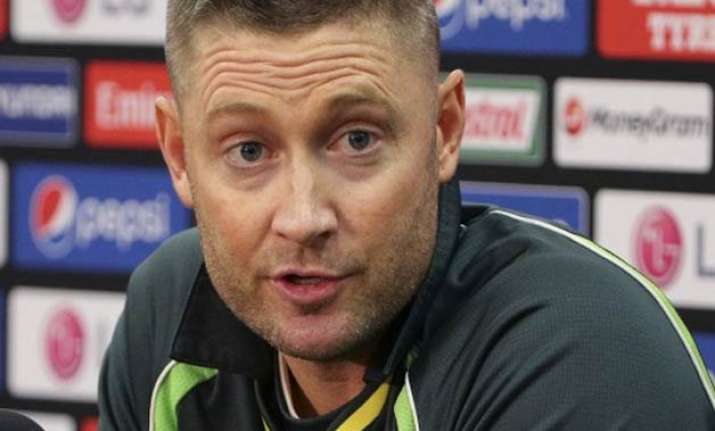 Melbourne, Australia: Australia captain Michael Clarke has announced that Sunday's Cricket World Cup final against New Zealand will be his last one-day international.
Clarke plans to continue playing test cricket, hoping the break from the shorter format will prolong his international career.
Clarke, who will turn 34 next week, says "It's about timing for me — now is the right time."
He said wanted to give his successor a full four-year cycle to prepare and mold a team for the 2019 World Cup, and hoped that a break from the shorter format of the game would allow him to continue playing test cricket for longer.
"I was very fortunate four years ago to get the opportunity to captain this one-day team (and) that was really good preparation for me leading up to this World Cup," he said. "The next Australian captain deserves the same opportunity. I don't think it's realistic that I'll be fit and healthy for the next World Cup, so I believe it's the right time."
Clarke has had a chronic back problem throughout his career and has recently struggled with hamstring strains, requiring surgery late last year that kept him out of action for more than two months from the second test against India to Australia's second match at the World Cup.
Steve Smith, the 25-year-old batsman who deputized as test captain in Clarke's absence, is a contender to take over the ODI captaincy. George Bailey, who filled in as national skipper in the shorter formats, hasn't made the starting XI at the World Cup since Clarke's return.
Clarke had regularly filled in for Ricky Ponting before replacing him after the 2011 World Cup. He matured further as a batsman and leader after being elevated to the test captaincy.
In his most tumultuous period since assuming the national captaincy, Clarke was strong and dignified in the way he dealt with the public focus and personal grief following the sudden death of friend and former teammate Phillip Hughes after a domestic match last November.
That gave the Australian public a great insight into a player who had been a regular in the national team for a dozen years.
Clarke was part of Australia's winning team at the 2007 World Cup in the Caribbean, and a member of the squad which lost in the quarterfinals in 2011 to eventual champion India.
"I think I leave the one-day game for the Australian team in a better place than when I took over the captaincy," he said. "Last World Cup, we were knocked out in the quarterfinal. This World Cup we've been able to make the final and hopefully we can go on and have success in that final."
Sunday's match at the Melbourne Cricket Ground will be his second appearance in a World Cup final, and his 245th ODI. He made his debut at Adelaide in January 2003, taking a wicket and scoring 39 not out in a four-wicket win over England.
Clarke, a right-handed batsman and left-arm spinner, has largely given up bowling to take pressure off his back.
It's "obviously a priority for me to continue to be successful in the test format," Clarke said, "and I think by walking away from one-day cricket it probably gives me my best opportunity."
As for the World Cup, Clarke said the focus needed to be on the team. As a captain, he has led Australia to 49 wins from 70 completed ODI matches.
"It's not emotion, it's skill that helps you win major games and major tournaments, and tomorrow will be no different," he said. "It's a wonderful opportunity for every player to walk out onto the MCG in a World Cup final. It's a very special event. But yeah, it's no more special because it's my last game."
Ahead of the final, he has scored eight centuries and 57 half centuries in his 222 ODI innings, compiling 7,907 runs at an average of 44.42.
With the ball, he scalped 57 wickets in 106 innings at an economy of 4.98 and averaging 37.64. He also had a fifer (5/35) against Sri Lanka way back in 2004.
Australia will play test series against the West Indies and England after the World Cup, where Clarke will be aiming to add to his 108 test caps.