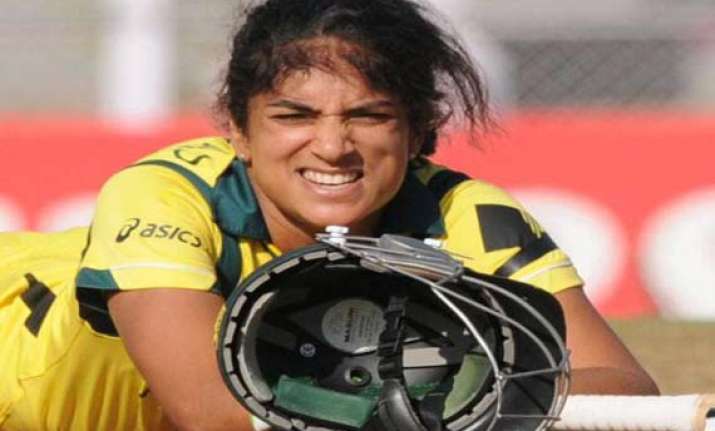 Mumbai, Feb 18: Lisa Sthalekar, member of the newly-crowned ICC Women's World Cup champion Australia team, has announced her retirement from international cricket.
The Australian all-rounder's announcement follows her team's triumph in the World Cup final win in India Sunday, beating the West Indies by 114 runs. In her final match for Australia, Sthalekar took 2-20 and wrapped up the win with a fine catch to dismiss the last West Indian batter.
Sthalekar made her international debut in 2001 in a One Day International (ODI) match against England. She went on to play for Australia in eight Tests, 125 ODIs and 54 Women's T20 International matches.
The talented all-rounder made a name for herself with both the bat and ball. She has amassed a total of 416 Test runs, 2728 ODI runs and 769 T20I runs. Her bowling statistics are equally impressive, having claimed 23 wickets at Test level, 146 at ODI level and 60 in T20I matches. She was the first woman to score 1,000 runs and take 100 wickets in ODIs.
When rankings were introduced, Sthalekar was regarded as the leading all-rounder in the world. The 33-year-old is currently ranked the number one T20 all-rounder and bowler in the world and holds the number two ranking for ODI all-rounders and bowlers.
Sthalekar has been recognised with a number of awards, including her nomination for the ICC Women's Player of the Year in 2007 and 2008 and the ICC Women' s T20 Player of the Year in 2012.
She has also enjoyed a great deal of success with the national side, having been a part of the winning teams in the World Cup in 2005 and 2013 and the World Twenty20 in 2010 and 2012.
Sthalekar said the decision to retire from international cricket did not come easy.
"To finish my international career by playing in a successful ICC Women's World Cup in the country of my birth is quite special for me," Sthalekar said.
"I feel that this is the right time for me to retire and I've been fortunate to be able to represent Australia for as long as I have and to have been a part of some very successful teams.
"Women's cricket has changed a lot during my time in the game and it's been an honour to witness this evolution first hand. We have seen at this year's World Cup that the standard of women's cricket across the world has grown immensely in the last few years alone."