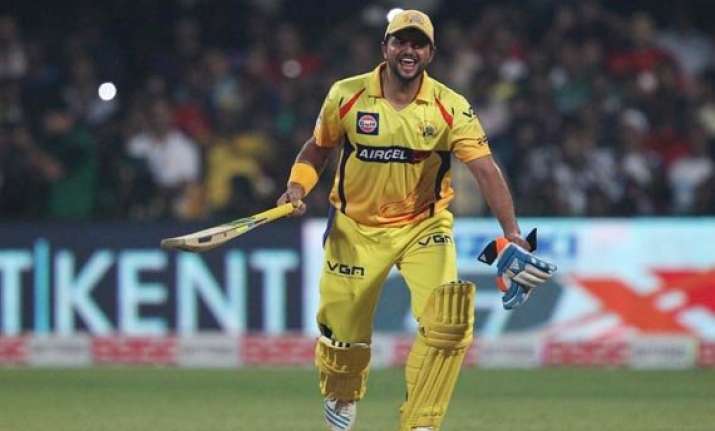 Bangalore: Having guided CSK to their second CLT20 trophy, Suresh Raina said that he has matured as a player taking cues from his contemporaries including Virat Kohli, who has shown the way with big hundred in ODI cricket.
"I have learnt a lot in these seven years. In the earlier years, there used to be Matthew Hayden along with Mike Hussey and also our coach Stephen Fleming, who helped me matured. In the Indian team, I learnt a lot from watching Virat Kohli convert starts into big hundreds in ODI cricket. Not to forget my partnerships with Dhoni. Also like to menbtion Yuvraj Singh's name," a beaming Raina said in a post-match interview.
"It's important to perform on a big day. I believe they got 20 runs short bit I was determined to play till the end and see my team through. I have played Kuldeep, Yusuf bhai and Piyush earlier and wanted to be positive," said Raina.
Having broken the trophy jinx after three years, Raina said that team environment has been key to CSK's success.
"We have amazing players like Baz (Brendon McCullum), Faf (du Plessis) and Bravo and it's an amazing atmosphere," said Raina.
Skipper Mahendra Singh Dhoni was happy with his team's show.
"Overall it was a fantastic game for us," said Dhoni.
"To start off, it was a good toss to win. It was slightly difficult for the opposition bowlers. Our fielding was not up to the mark. In finals, you have to take the game to the next level. So we didn't start well with too many easy misfields," he said.
He was all praise for young spinner Pawan Negi, who grabbed five wickets.
"Negi is not afraid to toss the ball. It was important to do that to get something out of the wicket. Just like Kuldeep was also not afraid to toss the ball. He has that variety and will only mature as he graduates into international cricket," said Dhoni.