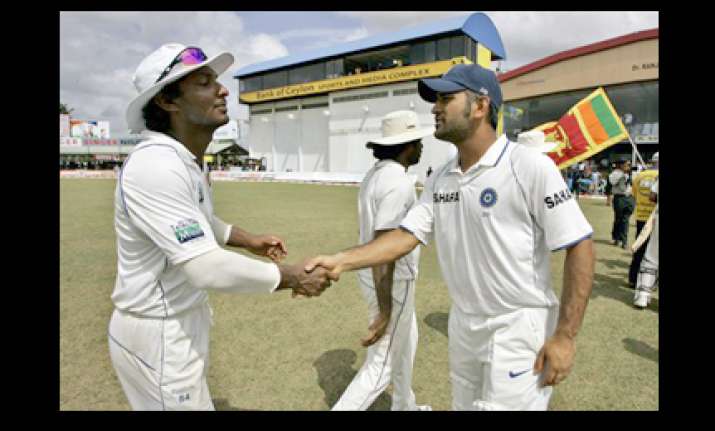 Colombo: V V S Laxman's unbeaten century under pressure showed why he is regarded as "very very special", captain Mahendra Singh said on Saturday , attributing India's series-levelling victory against Sri Lanka to a "collective effort".
Laxman cracked a fighting unbeaten 103 and anchored the innings brilliantly while Sachin Tendulkar (54) and Suresh Raina (41 not out) gave him the perfect support from the other end as India defeated Sri Lanka by five wickets to level the three-match Test series 1-1.
Dhoni said Laxman, who was struggling for runs in the series, always has the habit of coming up with something special when it mattered most for the team.
'He (Laxman) proved today why he is called very very special. He always comes up with innings that have a huge bearing on the game. It was very important for him to score runs as the team needed it most to level the series. I think it is a very special innings. Hopefully, he plays plenty more innings like this for us," the jubilant Indian skipper said.
"I think the way he batted he paced his innings really well. He was struggling a bit with back spasm but still he wanted to go on without a runner. But after lunch there was a time when he had to go for a runner. I think there was pain and there was pressure at the same time," he said.
Dhoni was also full of praise for Tendulkar and Raina, who played a vital role in the victory along with Laxman.
 "I think Sachin too batted really well and after he got out, Raina came in and supported Laxman.
"Raina batted well. In the initial few balls he played a few big shots but after that he calmed himself down and batted sensibly," he said.
He said the win was the result of a collective effort and both his batsmen and bowlers did their bit.
"If we had lost this series it would have been because of our batting line up not performing really well. If it was a draw series which meant that both the batsmen and the bowlers did decently," Dhoni observed.
"I think in the first Test the batsmen could have done much better. I cannot really complain about the bowlers because in all the three Test matches we bowled first on a fresh track where there was not much help for the fast bowlers initially or the spinners. But this was one track where there was a bit of help for the spinners right from the very first day," he said.
"After the disappointment of the first Test, both the bowling and the batting department picked up and did really well in the rest of the series," Dhoni said.
Dhoni said although there was purchase for the spinners throughout the five days of the match, batting became easy once the ball got soft.
"Once the ball gets soft it was not doing that much compared to the new hard ball. When (Ajantha) Mendis came in to bowl, the ball got soft and so the spinners were not getting the same amount of turn with the kind of speed which they should have got," he said.
"We all knew if we can absorb the pressure of those initial few overs, it will be relatively easy to bat," the wicket-keeper batsman added.
Playing only his second Test, Suraj Randiv impressed all and sundry with figures of nine for 162 and Dhoni too lauded the off-spinner for his effort but said the Indian batsmen were experienced enough to tackle his threat.
"Randiv bowled really well. But we have got a batting line up where most of the players have played over 100 Tests. or some are very close to playing 100 Tests. So, they are experienced enough to make their own plans," he said.
"The first few overs were very important because the ball was quite hard which meant the spinners got a bit of bounce and turn. We just wanted to go through the initial overs and play our shots when the ball gets soft," Dhoni signed off. PTI