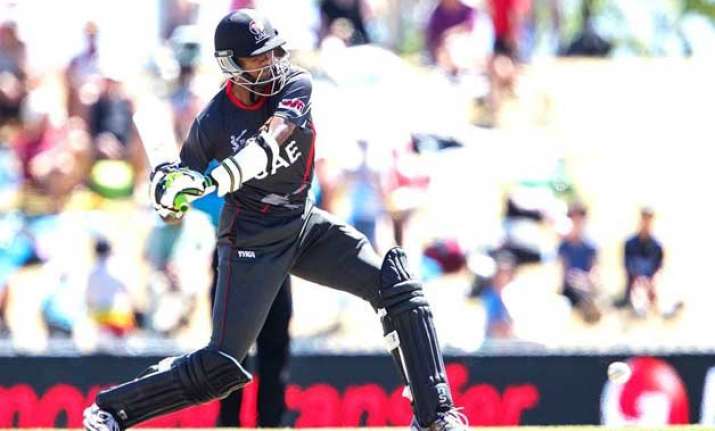 India won by nine wickets,Ravichandran Ashwin is the man of the match
Perth:
Having demolished Pakistan and South Africa in their first two matches by dishing out clinical performances, defending champions
India
would look to complete a hat-trick of victories when they take on minnows United Arab Emirates in their third group league match of the cricket
World Cup
at Perth today.
Team India after losing the toss has not put a foot wrong and  defeated minnows UAE in a comprehensive manner and register their third win in the World Cup 2015. Rohit Sharma played some superb shots to bring his 24th ODI fifty  after Ravichandran Ashwin bowled his career best bowling figures in the ODI
India 104/1  after 18.5 Overs
Karate to Kohli, FOUR, to third man and India completes 100 runs
Rohit Sharma completes his fifty .Rohit Sharma's 24th ODI fifty
Skipper Tauqir starts the proceedings for UAE,India have taken the batting Power Play
Both the team are back into the field after the innings break and India will look to finish the game after Rohit and Virat playing some cracking cricketing shots. UAE players  will feel that they had a good learning experience at the international level.
Innings break after 16 overs .India still requires 15 more runs to make it a three in a row.
India 83/1 after 15 overs
Rohit Sharma 45 (44) Virat Kohli 24 (29)
Virat and Rohit really looing to finish the game as soon as possible. "Michael Hussey and Virat Kohli are the two best cover-drivers I have seen in my time," says Matthew Hayden. An appeal for stumping by the UAE keeper but Rohit was safe. Rohit getting some much needed match practice. Fifty run partnership between Virat and Rohit.
India 52/1 after 10 overs
Rohit Sharma 27 (29) Virat Kohli 11 (14)
India lose opener Shikhar Dhawan but thier is hardly any relief for the UAE bowlers as Virat Kohli is really playing some cracking shots.Cridible display of wrist hitting by the Indian batsmen.
Virat Kohli is in at no. 3
India 29/1
Shikhar Dhawan c Mustafa b Naveed 14 (17)
OUT! In the air and gone! Pitched short outside off. Dhawan tries to cut through the off-side but hangs on to Rohan Mustafa at backward point who takes a brilliant one-handed catch.
India 19/0 after 5 overs
Rohit 9 (16), Dhawan 10 (14)
A decent start by the Indian openers after scoring 19 in first five overs. After bowlers, the Indian batsmen shall now have to chase the total as quick as they can in order to take their net run rate more higher.
Mohammad Naveed will open the bowling for UAE with two slips in place. Rohit takes the strike.
India are set to begin their chase. The openers Rohit Sharma and Shikhar Dhawan are walking in.
=======================
India's fielding too was sharp, though the usually reliable Suresh Raina dropped a simple catch to give Mohammad Naveed a reprieve. In fact, it turned out to be the first drop catch of this World Cup for India. India will look to chase down the target quickly and improve their net run rate. At the other end of the spectrum, UAE's total of 102 is their lowest ever score in ODIs. They need to take a few wickets to at least lift their sagging morale.
On the back of  Ravichandran Ashwin's excellent spell of spin bowling, India skittled out the opposition ranks for a paltry score. Ashwin used the breeze from south-west to good effect to hold it up in the air and take a four-wicket haul. He also used the arm ball well. It turned out to be Ashwin's best figures in ODIs. Ravindra Jadeja too picked up a couple of wickets. UAE's batsmen didn't help their cause by showing poor technique against both the pacers and Ashwin. None of their batsmen tried to get themselves in and adjust to the extra pace and bounce on offer at the WACA.
So, India need 103 runs to win the match and consolidate their top position in the table.
UAE 102 all out after 31.3 overs
Manjula Guruge 10 (16)
Shaiman Anwar b Yadav 35 (49)
OUT! Yadav finishes in style. You miss, I hit! Fast and full from Yadav, Anwar was beaten for pace as he looked to work it on the on-side plays completely down the wrong line and misses.
UAE 94/9 after 30 overs
Shaiman Anwar 31 (46), Manjula Guruge 6 (10)
Shaiman Anwar is once again showing the fighting spirit he has. With his 31 runs, he guided his side's score into the 90s. Ashwin completed his 10 overs spell finishing with 4 wickets for 25 runs. The last batting duo now share 23 runs, highest in the innings.
Manjula Guruge is the last man in
UAE 71/9
Mohammad Tauqir b Jadeja 1 (5)
OUT! Bowled him round his legs. Tauqir slips as he goes across the line and tries to sweep, that exposes the leg stump line and the full ball sneaks through to hit middle and leg.
Mohammad Tauqir walks in at no. 10
UAE 68/8
Mohammad Naveed b Ashwin 6 (7)
OUT! clean bowled! fourth wicket for Ashwin. Wickets are falling in a heap for UAE. Exposes all three sticks and loses the leg pole. Quicker ball from Ash, Naveed goes leg-side and is late on the cut, the ball rattles into the leg stump
Mohammad Naveed is in at no. 9
UAE 61/7
Amjad Javed c Raina b Javed 2 (5)
OUT! Jadeja strikes first ball of his spell. Flighted delivery just outside off stump, Javed looks to defend, but gets a thick outside edge to Raina at slips.
UAE 54/6 after 20 overs
Shaiman Anwar 6 (12), Amjad Javed 2 (1)
Mohit Sharma gets his name into the wickets column too. An excellent full length delivery with pace just missed an inside edge off Mustafa's bat and umpire straightaway raised his finger. The use of DRS by the batsman was a waste as well. Only 13 runs off the last five over, that's a really really good show of bowling.
Amjad Javed is the next man in
UAE 52/6
Rohan Mustafa lbw b Mohit 2 (12)
OUT! loud appeal for lbw and umpire raises his finger. But the UAE batsman went for a review which shows it was almost a plumb. It was a good length delivery angling towards off stump. Missed by the pace and the ball struck straight onto the pads.
Rohan Mustafa comes in at no. 7
UAE 44/5
Khurram Khan c Raina b Ashwin 14 (28)
OUT! And another. Ashwin gets his third. UAE are in all sorts of trouble here. Flighted delivery around the leg stump line, Khan gets down on his knees to sweep, the ball takes a soft top edge and Raina takes another at slips.
UAE 41/4 after 15 overs
Khurram Khan 12 (22), Shaiman Anwar 0 (1)
India's catching in the World Cup so far has been exceptional. Dhawan showed another great effort to dismiss Swapnil Patil for 7 at the stroke of drinks break which brings in the last match centurion Shaiman Anwar to the crease. Can he perform the heroics here once again? It will be a tough job for him to face the pace of Yadav and Mohit.
So the last match hero for the UAE, Shaiman Anwar comes to the crease now
DRINKS BREAK
UAE 41/4
Swapnil Patil c Dhawan b Ashwin 7 (19)
OUT! Edged and that's a good catch. Straighter one from Ashwin, Patil looks to defend off the front foot, gets a thick edge, the ball went quickly, but Dhawan dived early to his right to grab with both hands.
Swapnil Patil comes to the crease at no. 5
UAE 28/3
Krishna Chandran c Raina b Ashwin 4 (27)
OUT! Ashwin strikes! A flighted delivery, Chandran looks to work it on the on-side, the ball just brushes the glove, then takes the thigh pad and goes to leg slip, where Raina takes an easy catch.
UAE 28/2 after 10 overs
Krishna Chandran 4 (25), Khurram Khan 8 (14)
Runs are dried up for the UAE team. Umesh Yadav bowling an excellent spell, bowled two maidens out of five. Fantastic bowling by the Indian bowlers. UAE are seen struggling here to put up a decent total.
UAE 13/2 after 5 overs
Krishna Chandran 1 (9), Khurram Khan 0 (0)
Double strike for India in the first five overs with Umesh Yadav and Bhuvneshwar Kumar picking two Arab batsmen off short deliveries. Both the bowlers are generating good pace and UAE are under pressure right from the start. That's a a good beginning by India.
Khurram Khan is in at no. 4
UAE 13/2
Amjad Ali c Dhoni b Kumar 4 (12)
OUT! Appeal for caught behind and it's out! This time Kumar banged it short, Ali tried to pull but gets a soft edge to the keeper. Umpire raises his finger in no doubt.
Krishna Chandran is the next man in
UAE 7/1
Andri Berenger c Dhoni b Yadav 4 (9)
OUT! Yadav bangs this short, Berenger has no clue about the pace on this delivery, he is very late in his pull shot, the ball takes the top edge. Dhoni takes a simple catch.
UAE openers Amjad Ali and Andri Berenger are walking in upto the middle. Bhuvneshwar Kumar will take the new ball on his return.
India (Playing XI): Shikhar Dhawan, Rohit Sharma, Virat Kohli, Ajinkya Rahane, Suresh Raina, MS Dhoni(w/c), Ravindra Jadeja, Ravichandran Ashwin, Bhuvneshwar Kumar, Mohit Sharma, Umesh Yadav
United Arab Emirates (Playing XI): Amjad Ali, Andri Berenger, Krishnachandran Karate, Khurram Khan, Swapnil Patil(w), Shaiman Anwar, Rohan Mustafa, Amjad Javed, Mohammad Naveed, Mohammad Tauqir(c), Manjula Guruge
No Stuart Binny in the squad, Bhuvneshwar Kumar replaces injured Mohammed Shami.
So the news is, UAE have won the toss and have opted to bat.
The ball comes on to the bat, because of its true bounce, so it is good for batting as well.
The WACA pitch is one of the fastest pitches in the world. It's very hard and the fast bowlers will have a big smile on their faces.
An Indian connection in the UAE camp! UAE's Swapnil Patil was born in Vasai in Mumbai. Swapnil and Ajinkya Rahane were team-mates and were part of the Mumbai Under-14, 16, 19 and 22 middle order. Bigger things were destined for Swapnil but unfortunately the going got tough. He gave up and headed to the Gulf to join a business group that had a cricket team. Job security was there and Swapnil could concentrate on his cricket. Also playing in the UAE league was a far easier proposition.
Indian pacer Mohammad Shami is injured and Stuart Binny is most likely to replace him in the squad.
Despite being unable to put it past Zimbabwe and Ireland, UAE skipper Mohammad Tauqir is looking at the positive side of things, saying they are inching closer to their maiden victory.
West Indian legen Brian Lara feels India are playing the best cricket of the World Cup and wants them to test their bench strength against UAE.