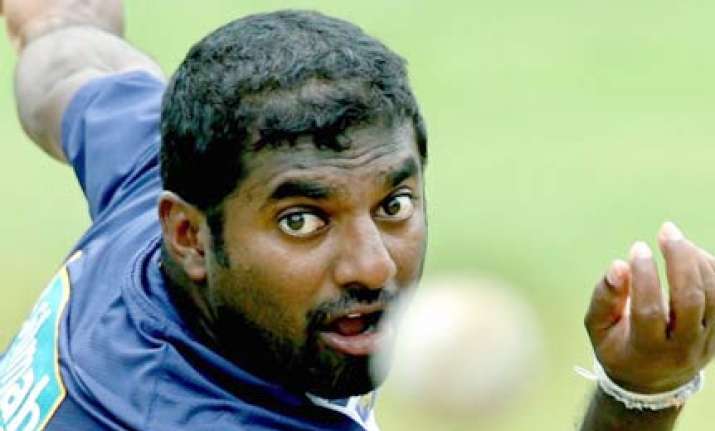 Muttiah Muralitharan is the highest Test wicket taker of all time and it is highly unlikely that anyone in contemporary cricket or in the near future can even approach the world mark the champion Sri Lanka bowler would set before retiring.
The ace off-spinner, who has grabbed a whopping 789 wickets to date from 131 Tests, is frustrated that he has been unable to make an impact in the ongoing three-Test series against India in which the visitors are trailing 0-1 going into the third and final match here from December 2.
The Kandy-born Muralitharan, at 37, in the autumn of his prolific career that commenced in the early 1990s, has threatened to walk into the sunset before the 2011 World Cup in the sub-continent because he feels he's no longer the silent assassin of yore.
Muralitharan has already announced his intention to quit the highest form of the game after his country's series against the West Indies next year but has now indicated he may quit ODIs too before the mega-event.
"I am 37 years old and I can't bowl as much as those days because after 15-16 overs I get tired. But I will try and play a little bit of one-day cricket that's only 10 overs to bowl. If I find everything is not going well I might retire from both forms of the game before the World Cup," he told a Sri Lanka newspaper after his country's massive innings defeat to India in the second Test at Kanpur.
In two Tests in the current series, Muralitharan has taken only five wickets after bowling over 100 overs, conceding close to 400 runs with a best of 3 for 97 to show for.
Even his overall record in India in Tests is not very impressive, considering his stupendous performance in his long career during which he has grabbed 10 wickets in a match on 22 occasions and five wickets in an innings 66 times.
In total contrast are his returns in India, a meagre 36 wickets in 10 matches with a best of 7 for 100 at a high cost of plus-45 runs per wicket. He has also not taken a 10-wicket haul in India.
This pales even against his modest record of 93 wickets in 20 Tests at home and away combined against India with an average of just under 33 per wicket, including two 10-wicket hauls at home.
But Muralitharan is not an isolated case as far as legendary spin bowlers coming a cropper against India in the latter's backyard is concerned.
Australian leg-spin legend Shane Warne has a similar poor record in India, having finished with only 34 out of his total haul of 708 wickets from the nine Tests he played in this country.
The final match in Mumbai's Brabourne Stadium, which is hosting a Test after more than three and a half decades, now offers the final chance to Muralitharan to redeem his record in India.
He is not expected to be part of the islanders' team when they return for their next series. PTI