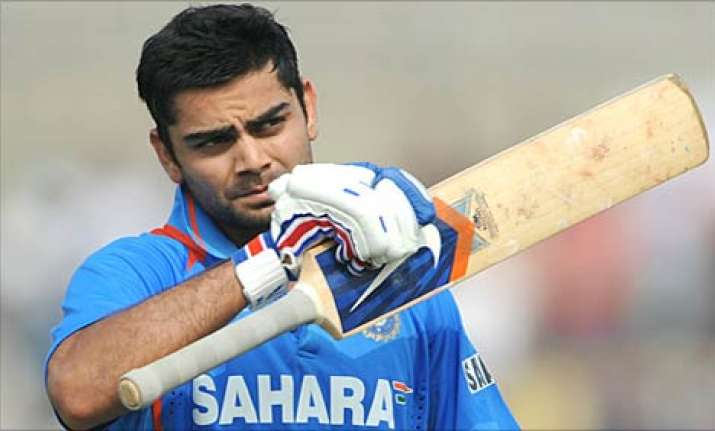 Bangalore, Feb 12 :  Virat Kohli, who is expected to play a vital role in India's middle-order in the upcoming World Cup, said after realising his importance in the team he has become a more matured batsman and is confident of his good showing in the ICC's showpiece event, starting February 19.
The 22-year-old Delhi lad said he has worked a lot on the mental aspect of the game and is more focused now as compared to when he first came into limelight in the 2008 Under-19 World Cup in Malaysia, where he lead India to the title.
"I have made a few changes in my game in the recent past.I am just trying not to commit unnecessary mistakes, learn from my mistakes. I am trying to use most of the opportunity that is coming my way.I am focusing on applying myself and play long and controlled innings, avoid playing rash shots and work on mistakes," Kohli said during an open media session here.
"When I got out playing a rash shot in the past people told me you could have played a better shot and you will learn with time. I learnt how to be mentally tough, not to be bogged down by the opposition. I feel much more focused.I am confident of my abilities," he added.
The right-handed batsman also said the re-invented calm and focused attitude on the field has brought about changes in him as a person."If you bring changes to your cricket it reflects on your individuality."
The cash-rich Indian Premier League (
IPL
) brought about a lot of instant fame and money for the young Indian cricketers and Kohli said it is important to remain grounded and in the surroundings of senior pros, who have already tasted the same.
"It is important to remain focused. The moment you start to think I have had enough practice and I don't need any more you will be lost. It is important to be eager to practice every day and be involved with the game.Be there with the people who has been there for long and have handled this situation before," he said.
With the World Cup being held in the sub-continent,expectations are high on the Mahendra Singh Dhoni-led side to break the 28-year-old title jinx and Kohli said he is feeling pressure of expectations of millions of cricket-loving Indian fans.
"I was feeling lot of pressure before the camp started but after arriving in Bangalore I am more relaxed. I am just focusing on my training. Just being around the team and teammates calmed me down," he said.  
Kohli already has a World Cup trophy under his belt but the youngster said his Under-19 experience will be of little help during the upcoming cricketing extravaganza, which will commence in Dhaka.
"It (the World Cup) is a different level altogether. It is superior and for a cricketer there is nothing as big as compared to the World Cup. I don't think my Under-19 World Cup experience will help in any way.But I am more confident going into the mega-event," he said.Kohli was one-of the star performers for India with the bat in the ODI series in South Africa and he said the experience will be of great help to him in the World Cup.
"I had some things in mind (in South Africa). I thought we would have to play as a team going into the World Cup. It was a really good experience to play and score runs in different conditions against different and world class bowlers," he said."I didn't have added pressure. I was just looking to enjoy."
There is huge hype around Sachin Tendulkar, who in all probability will play his swansong World Cup but Kohli said the upcoming tournament is of equal importance for the entire country nation as it is for the batting maestro."Definitely, it matters for him (Tendulkar) but it also matters for the country as well as the team."
An agile Kohli, who is also an important cog in India's fielding department and usually fields in the close position inside the circle, when asked if he ever felt nervous while fielding, he said: "We just look to enjoy every session. I try to bring out my best while fielding without taking any pressure.
"The kind of position I field in is all about anticipation. If you are nervous you can't anticipate. It's more about being relaxed," said Kohli. PTI