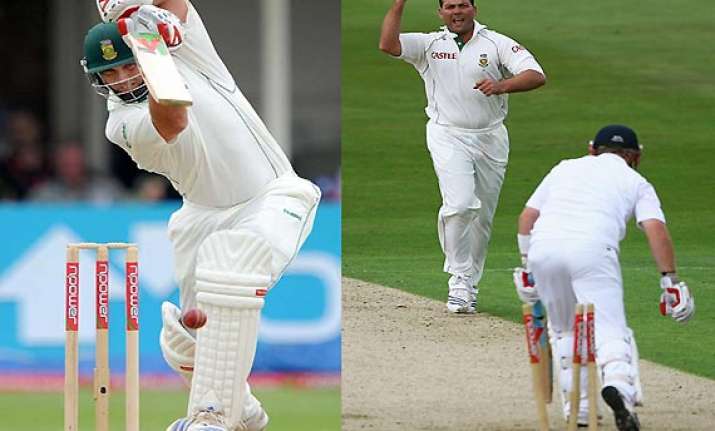 Abu Dhabi, United Arab Emirates: South African all-rouder Jacques Kallis, who turns 38 next week, prepares to face Pakistan in the first test starting from Monday.
He scored 70 in the warm-up match against Pakistan A this week in his first competitive game, after representing Kolkata Knight Riders in the
IPL
in May.
"After the IPL I felt like I wanted a good break and to get away from the game," Kallis said. "I got to do what most people do on weekends, spent time with friends, played some golf, catching up with some things that needed to be done at home."
Coming back from the long break, Kallis adds strength in South Africa's top order with the likes of
Hashim Amla
, A.B. de Villiers and
Faf du Plessis
at Sheikh Zayed Stadium.
Kallis scored a century when the Proteas faced Pakistan in a test match on a slow wicket at the same venue in 2010.
With India legend Sachin Tendulkar retiring after next month's home series against the West Indies, Kallis is one of the few old boys left in the game.
"It's never been something that's concerned me, age and that type of stuff," Kallis said.
"I still feel and act at times like a teenager ... the day I wake up and don't want to do this anymore and don't feel like going out to improve as a player, is the day I will call it quits.
"At this stage the goal is to try and get through to that World Cup, it will be the icing on the cake."
Kallis hit six fours and four sixes and faced 100 balls in hot and humid conditions during the warmup match and it was not difficult for the veteran of 162 test matches to get back into the groove.
"I feel in as good a space as I could be, specially getting out in the middle and hitting the ball as well as I did in that practice game it gives me a lot of confidence going into the tests."
With 13,128 runs in test matches, Kallis is known as one of the few batsmen in world cricket to play spinners well in all the conditions. He won't be surprised if the wicket does assist Pakistan's spinners led by Saeed Ajmal.
"Hopefully we want some good wickets that you can play some good cricket on, an even contest between bat and ball," he said.
"I think it will spin a little more than it did last time," he said. "The guys are pretty excited to display skills with both bat and ball, which is exactly what you want in test cricket."
South Africa, the top-ranked test team, has history on its side with a remarkable record of not losing a test series away from home since 2006 when it was beaten by Sri Lanka 2-0.
Pakistan has not won a test series against the Proteas since the 2003 home win and overall had won just three of its 21 test matches against the South Africans.
"We've done well in the subcontinent for many a year now," Kallis said. "Our players have got some good gameplans against it and we've scored some big runs and got some good results in the subcontinent."
Kallis needs another 251 runs to overtake Ricky Ponting (13,378) in the list of highest run-getters behind Tendulkar (15,837). And to do that he has to counter Pakistan spinners on slow wickets in the next four innings at Abu Dhabi and Dubai.
Pakistan will be be pinning its hopes on star offspinner Saeed Ajmal and leftarm spinner Abdul Rehman with the likely inclusion of another uncapped 34-year-old leftarm spinner, Zulfiqar Babar, also on cards for Monday's first test.
"He's (Ajmal) a world-class bowler but he's one of 3-4, maybe five who can knock us over," Kallis said. "We're not looking at one bowler specifically ... that's the way we are focusing on it."
Ajmal was dropped in 2010 after taking only three wickets in the first test at Dubai against the Proteas, but hopes to make amends this time around.
"I have only one target and that is to take more and more wickets, be it (Graeme) Smith or (Jacques) Kallis," Ajmal said.
Ajmal also hoped his "doosra", a ball that turns away from righthanded batsmen, would come out good against the strong South Africans.
"I have taken 70 percent of my wickets on doosras," he said.
"It depends on you, what type of ball you want to bowl and I have confidence on me that whatever I bowl it's good for taking wickets."