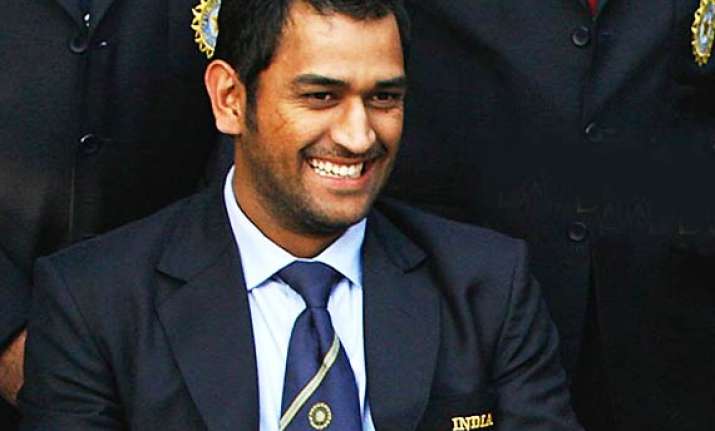 Chennai, Dec 12: Indian cricket captain Mahendra Singh Dhoni reckons that the upcoming four-Test series is his team's "best chance" of upstaging Australia in their own backyard but will not take them lightly despite their recent slump.

India and Australia will square off from December 26 in a highly-anticipated series in which the visitors seem to have a good chance given the struggle through transition that Michael Clarke's men are enduring.

On a day the Indian players head Down Under, Australia were upstaged in a Test at home by New Zealand for the first time in 26 years.

"Even last time we had a very good chance and we did perform well. It is not like that the opposition is not doing well (but) it will be the best chance for us," Dhoni told reporters in a pre-departure press conference here.

"We have to play to the kind of talent that we have got and not worry about such things. We need to work on our strengths and weaknesses. We are more concerned about where we need to work on and not worry about what kind of opposition we are playing," the skipper stated.

India's two first- choice pacers—Praveen Kumar and Varun Aaron—were ousted even before the tour started but Dhoni insisted that led by the experienced Zaheer Khan, bowling will click Down Under.

"Our bowlers are talented. Of course, when you do not have your main bowlers you need a bit of time. Once the youngsters play more and more games, that is how they get experienced at the top level.

"I think talent wise we are there. We have a good exposure for the youngsters who are part of the side now touring Australia," he said.

Dhoni took a break from cricket by opting out of the just-concluded ODI series against the West Indies at home and he said he is back a rejuvenated man.

"I needed the break and I am happy that I got it. The team also did really well. I am looking forward to the Australian tour," he said.

"We had enough time for some preparation also before the start of the first test match that we play. Looking good as of now. Hopefully we do not have too many injuries before the start of the Test series," he added.

Asked which aspect of the game the Indian team needs to improve on, Dhoni said, "You want to improve in all departments always. You have seen cricketers who have been part of international cricket for more than 10 years still believe in improving and they keep improving. It is a constant process and everyone is part of it."

But he did hope that Indian fielders, certainly not the best in circuit by their own admission, would latch on to catches that come their way in Australia.

"We would like to improve in all the three departments.  Catching will be very crucial. Last series that we played in India we did not have so many catching fielders. We need to have a bit more catching fielders. They say catches will win matches.

"It is true so that will be one of the areas where we have to work on. On big grounds, running between wickets and trying to keep the batsman on strike are also necessary.  All these small things help you put pressure on the opposition," he explained.