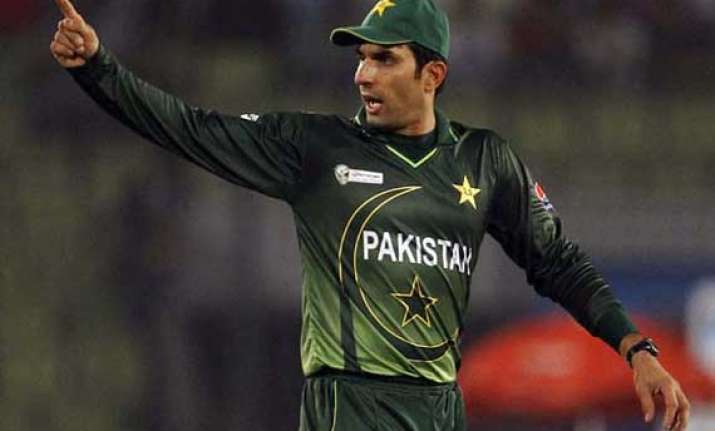 Lahore:  Misbah-ul-Haq is feeling the heat yet again over the subject of ODI captaincy after chief selector Moin Khan the other day hinted at change of guard in Pakistan ODI leadership.
When contacted Misbah said it was the prerogative of the PCB to name a captain.
"And if the PCB doesn't want me as ODI captain what can I do?" asked Misbah, who mainly with his resolute mental strength and consistent batting performance has coped with such scenarios bravely on several occasions since being installed as Test captain in 2010. By around mid-2011, he was also handed the ODI captaincy.
Though PCB chairman Najam Sethi, in the immediate aftermath of Moin's controversial statement on national ODI captaincy, reacted quickly to reiterate his decision of retaining Misbah as captain till the 2015 World Cup,  the PCB boss did not seek any explanation from Moin.
Moin unnecessarily touched the issue which many in the cricket circles allege was done under a prepared plan to upset Misbah.
Though the PCB chairman, sources said, had the privilege to appoint captain, it would not be easy for him to sustain the pressure of other stakeholders.
Critics are also expecting a very limited role from Misbah as captain after the PCB chairman gave Moin dual job of chief selector and team manager. Traditionally, a manager is also the head of the touring selection committee. Therefore, Moin now is in a very strong position, not only to pick the 15-member squad but also the playing XI.
Some experts also reckon that when the players are placed under the authority of a strong official like Moin, there are chances that they will not be too worried about Misbah's concerns, in case of their bad performance — a scenario deemed enough to frustrate the captain, to even leave the post.