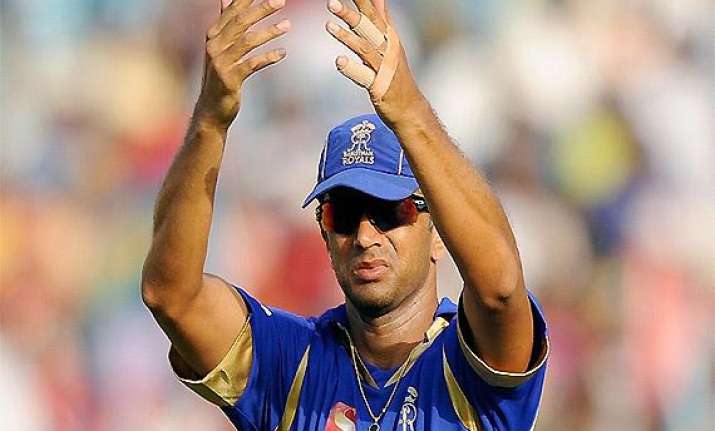 New Delhi, May 23:  Rajasthan Royals skipper Rahul Dravid says dealing with the turmoil caused by the spot-fixing scandal, which has left his team's reputation in tatters, has turned out to be as tough as handling "bereavement in some ways".
"I would not lie it was a very tough phase for us. It was a blow to the team. It's something I have never experienced anything like it. It's like bereavement in some ways," Dravid told reporters after his team beat Sunrisers Hyderabad to enter the second qualifier of the
IPL
, here last night.
Rajasthan Royals secured a four-wicket win over Sunrisers Hyderabad in a thrilling low scoring 'Eliminator' to book their place in the second Qualifier where they will be meeting the mighty Mumbai Indians in Kolkata.
Dravid, for the first time, seemed like opening up to the fixing chapter as he talked about the subject and allowed his emotions to flow. RR were a team gone haywire after three of its players, including India pacer S Sreesanth, were arrested by the Delhi Police for indulging in spot-fixing.
"You feel real sadness, disappointment and anger. There are so many emotions. We had a day (after the Mumbai Indians match) and the next day, we were playing Sunrisers in Hyderabad and everyone was in a daze. It was a difficult week for all of us," he said.
Dravid informed that two days they spent in Jaipur after their match against Sunrisers Hyderabad helped them unwind and engage in "honest" discussion with each other.
"I think the two days we had in Jaipur after that game was fantastic. We spent two-three days in Jaipur and there were some really open, honest conversations among the players, among the coaching staff.
"A lot of emotions were shared. In some ways, it was amazing for me to see the way they came out and expressed their feelings. There was range of emotions that we had experienced over the last few days," he said.
The former India skipper thanked Royals coach Paddy Upton and the support staff for reuniting the group just ahead of the crucial play-off stage.