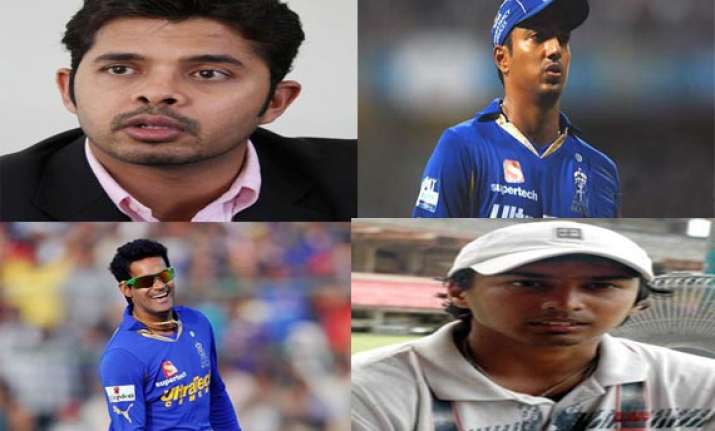 New Delhi, May 22: With fresh arrests being made in the infamous IPL spot fixing case, here is a complete list of IPL players and bookies accused of cheating the public.
1. S Sreesanth
First among those arrested from Mumbai, currently under Delhi police custody and is being interrogated. Rajasthan Royals has suspended his contract. Accused of spot fixing.
2. Ajit Chandila
Rajasthan Royals player, whose contract has also been suspended.  Chandila was also arrested on May 15 night. So far, rs 20 lakh cash has been found from a cricket kit bag at his aunt's place.  He too has been charged of spot fixing in IPL6.
3. Ankeet Chavan
Rajasthan Royals player from Maharashtra. He was also arrested with Sreesanth and Chandila. Says he made a mistake. His contract has also been suspended by RR.
4. Jiju Janardhan
Close friend of Sreesanth, Jiju is a former Kerala player, and had fell headlong into cricket betting. Said to be the brain behind Sreesanth's downfall.
5. Amit Singh
A former Rajasthan Royals player and former Ranji player from Gujarat . BCCI has suspended him pending inquiry. He was also linked to the bookies.  
6. Ramesh Vyas
A Mumbai bookie arrested by Mumbai police crime branch. Said to have links with Sunil Dubai who  hs connections with dons Dawood Ibraham and Anees Ibrahim.
7. Vindu Dara Singh
Late actor and wrestler Dara Singh's son, Vindoo Dara Singh was  arrested by Mumbai Police crime branch for having links with certain bookies.  He was named by bookie Ramesh Vyas during interrogation.
8. The other accused bookies are
Deepak Kumar (Arrested)
Rakesh (Arrested)
Alpeshkumar Bhagwandas Patel
Prem Ramchandra Taneja
Ashok Vyas
Pandurang Kadam
Pravin Behra
Niraj Shah
Pankaj Shah along with Chandresh Patel (arrested) from Mumbai and Manan (Arrested) who operates from Ahmedabad.
All these are currently being interrogated by the Mumbai Police crime branch.
9. Baburao Yadav
Another former Ranji player arrested for being involved in the spot fixing  scandal. He is said to have introduced bookie Sunil Bhatia  to Chandila.
10. Manish Guddewar
A  32-year-old former Ranji player from Vidarbh, Manish Guddewar is said to have known Chandila and got him in touch with bookies. He is said to have played at the Indian Gymkhana Club at Nagpur with Baburao Yadav.