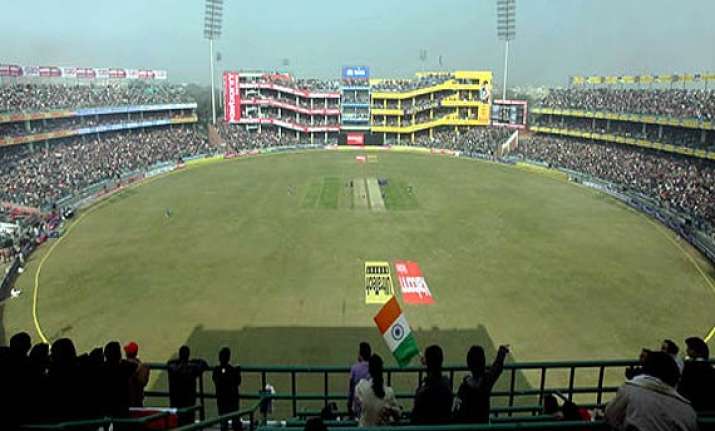 New Delhi:  The Delhi High Court today ordered de-sealing of kitchens and eateries inside Feroz Shah Kotla stadium here, which were closed by the civic body following a fire during an IPL match on May 3, but said no kitchen should be running inside the premises.
"The premises shall be de-sealed till further orders so that the DDCA can clean the entire premises and ensure that there is no kitchen running," a bench of justices B D Ahmed and Siddharth Mridul said.
It also asked the Delhi and District Cricket Association (DDCA) to "take immediate steps to see that no untoward
incident of fire or any such similar incident takes place and proper storage of materials is maintained."
During the hearing, the court said to Gaurang Kanth, the counsel for South Delhi Municipal Corporation (SDMC), that the agency can also deploy its staff in the stadium to ensure that proper safety norms are being adhered to by the DDCA.
It asked the SDMC to ensure de-sealing of the kitchens and eateries in the premium hospitality area of the stadia.The DDCA has been asked to file an affidavit indicating "the outcome of the inspection of the  Fire Department which was to take place today."
The bench issued the interim order in the evening hours after the DDCA said there is match tomorrow and something has to be done urgently.
The DDCA, which claims that it has been given a no- objection certificate (NoC) by the fire department, is seeking setting aside of SDMC order to seal the eateries and the kitchens at the stadium following the fire incident on May 3
during a match between Rajasthan Royals and Delhi Daredevils.     
While SDMC, in its fresh plea, is seeking the recall of an earlier order of the High Court that had asked it to grant provisional occupancy certificate to the DDCA for the stadium despite the fact that the cricket body failed to furnish the
completion certificate.
An inspection by the SDMC had on May 2 found eateries being run without the requisite "municipal health trade licence" and then issued a challan and followed it up with further directions to close the establishments on May 3.
Earlier, the court had restrained the MCD, now the SDMC,from taking "any coercive measures" against the DDCA and asked it give NoC to the cricket body on payment of Rs 1.2 crore in three installments.
"We are also informed that the respondent MCD shall issue a provisional occupancy certificate subject to the petitioner (DDCA) filing an affidavit to the effect that they shall continue to take steps to obtain the completion certificate within 6 months," it had said.
It had also asked the then MCD to "co-operate" with the DDCA in obtaining the completion certificate from the concerned department