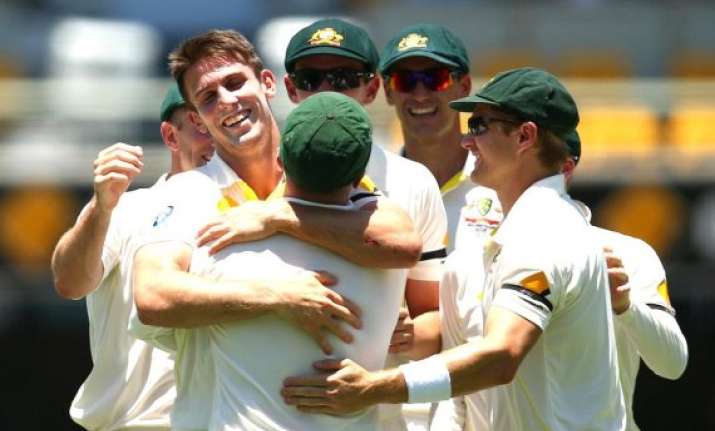 Brisbane: Australia were today dealt a blow as their all-rounder Mitchell Marsh will not bowl again in the remainder of the second cricket Test against India due to a hamstring injury on the first day at the Gabba.
Marsh strained his right hamstring and limped off the field just moments after lunch on a searingly hot day that left Australia severely under-resourced.
Marsh grimaced and pulled up short in his follow after delivering the final ball of his first over after lunch, and his sixth of the innings, and immediately left the field to be assessed.
Team physio Alex Kountouris later said Marsh was unlikely to bowl again in the Test.
"Mitchell Marsh has got a mild hamstring strain, low grade strain, on the right leg. He's had surgery on the left leg a year ago and he also injured the right one about two years ago," Kountouris told reporters.
"He's unlikely he will bowl again (in the Test). He will have a scan and we will try to get him on the field tomorrow and hopefully have him batting in some way that's useful."
Marsh's injury, which came after he finally claimed his first Test wicket in the morning session, meant a greater bowling workload for the side's other all-rounder Shane Watson.
The injury-prone Watson was one of the few fit members of the attack on day one and he had to complete Hazlewood's 16th over, with the second new ball, just before stumps.
Kountouris was busy attending one Australian bowler after another through the day, with Mitchell Johnson the only one of the four main seamers to get through unscathed.
Mitchell Starc left the field during the middle session after struggling with back and rib pain and debutant Josh Hazlewood battled cramps that forced him from the field shortly before stumps. However, both Starc and Hazlewood are expected to be available to bowl on day two tomorrow.