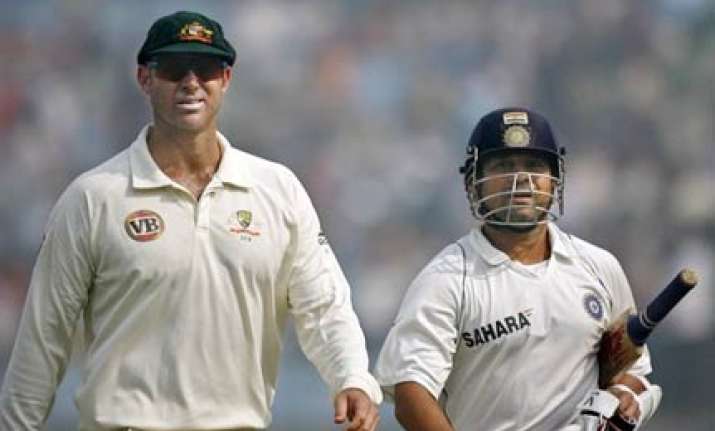 New Delhi, Feb 3: "Bat-obsessed" Australian cricketers were so infatuated with Sachin Tendulkar's 1998 blade which gave Shane Warne nightmares that they bought the copies of the willow to produce its versions Down Under, former opener Matthew Hayden has revealed.  
In his autobiography 'Standing My Ground', Hayden writes that Australians "have massive love affairs with their bats" and a special version of Tendulkar's 1998 blade was manufactured at a Brisbane factory.  
"In 1998, the Australian team that was crucified in India by Sachin Tendulkar became so infatuated with the little master that at least eight of them brought back copies of his famous Vampire bat, and Brisbane firm Gabba Sporting Products even produced a special version of it," Hayden, who retired from international cricket in 2009, wrote.  
"Tendulkar's extremely heavy bats were way too heavy for me. In fact, they may have even been too heavy for Tendulkar too. For a time during his career he suffered from an acute case of tennis elbow, and it was widely thought his heavy bats were partially to blame," he said.
Hayden also revealed his team-mates' obsession with their blades, calling Ricky Ponting a "bat sabotager" always trying to test others' willows while Mike Hussey "always travels with a set of scales to get the weight of his bat right".  
The broad-shouldered opener, who scored 8625 runs from 103 Tests, claimed that he has "never been a bat aficionado" but ended up using the unconventional Mongoose bat while playing for Chennai Super Kings in the Indian Premier League.  
"I have never seen a brand catch fire like that. Indians are not known for embracing left-field experiments. The Mongoose caused enormous interest among my teammates. Everyone picked it up and played with it and were all eyes when I trained with it in the nets.  
"Our Chennai captain
MS Dhoni
was mortified when he first set his eyes on that Mongoose. 'Are you going to use that?' he asked me, and when I told him I didn't know, he said, 'I'll give you any bat in my bag not to use it.' When I first pulled it out for a game in
IPL
I could sense the knives sharpening.  
"When I was approached by the Mongoose firm while commentating in England in the 2009 Ashes series, I was open to the idea of using a differently shaped bat. I must admit I felt a bit anxious, because if I failed, the brand could go down with me. I've always thought Twenty20 cricket was about entertainment, and that there was room for experiment in many areas of cricket gear, bats included." PTI