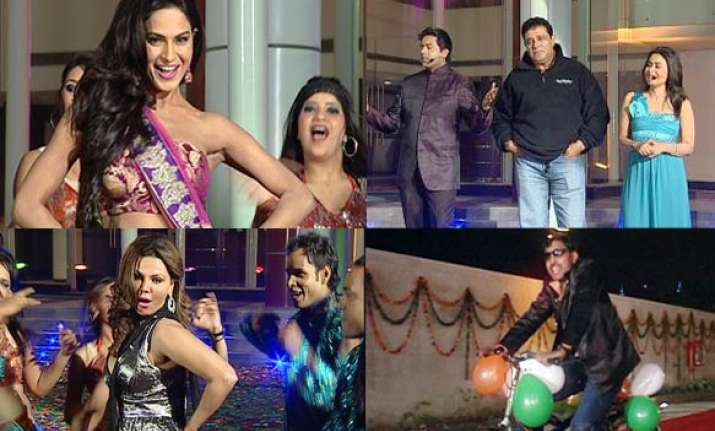 New Delhi, Feb 18: India TV's World Cup reality show Bigg Toss  had a rollicking start on  Thursday evening with Bigg Umpire laying down the rules for the participants that included Veena Malik, Rakhi Sawant,  singer Shankar Sawhney, Yuvraj's father Yograj Singh, RJ Simran, hair stylist Sylvie,  pop singer Ashok Masti and several other celebrities.
Veena Malik came in a palanquin while Rakhi Sawant came in an auto. Yograj Singh made his entry in  an open jeep, while pop singer Shanker Sawhney came in a vintage car.  
Hair stylist Sylvie came on a bike, while model Sakshi Bhayana came atop a car. Model Shalu Arora came in a vintage car, while ex-DUSU chief Amrita Dhawan came walking with her supporters.  
Pop singer Ashok Masti came with his bhangra group, while wrestler Sangram Singh came walking. Model Meenaxi made her entry in a car, while Zoobie Doobie Zahid Nigam came riding a bicycle.  
After the rapturous welcome, the participants, each one of them, went through a Ghost Mansion, to enter the Bigg Toss home named 11, Race Course.  
The Bigg Umpire laid out the rules for the contest. Two teams were selected among the participants - one led by Rakhi Sawant and the other by Veena Malik. The teams have been named Googly and Hattrick. 
While Rakhi had Masti, Sakshi, Sylvie and Zahid Nigam in her team, Veena had Yograj Singh, Sangram Singh and Arvind Swami in her six member team.   
The participants will bid for the top Team India player of the day. The number of runs made by each batsman will be converted into points, while each wicket taken by a Team India bowler will fetch 10 points. A hattrick will fetch 100 points, while a catch or run out will fetch 100 points, too.  
The winner of the contest will get a new luxurious Honda car.