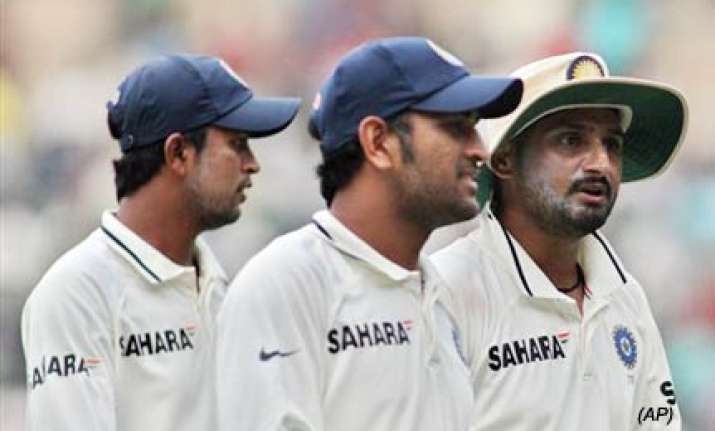 Bangalore, Oct 13: Skipper Mahendra Singh Dhoni today lauded his bowling unit for playing a pivotal role in India's 2-0 series win over Australia but said India need to groom more bowlers, especially pacers, since performing consistently was not easy in international cricket.  
India have rested key bowlers like paceman Zaheer Khan and spinner Harbhajan Singh for the upcoming One-day series. Virender Sehwag, Gautam Gambhir and
Ishant Sharma
are also not part of the squad since they are nursing injuries.  
"I am not playing with key players since we need to give them rest. We need to groom bowlers. We have four or five good fast bowlers and three spinners who have been consistently performing.  
"We need to rotate. It is also difficult for the fast bowlers to perform well in each and every match in India. There is lot of pressure on the fast bowlers," Dhoni said at a press conference.  
Dhoni said his bowlers forced a result in Bangalore where pitch was not offering much.
"The efforts put up by our players especially the bowlers was really outstanding because by losing the toss I was not helping them out. In the first innings we were not able to get any kind of reverse swing going as the wicket was not so dry.  
"If you see the result, I think it was not a wicket where you can get a finish in four and half days. It was not a turning track where our spinners can take wickets.  
"Therefore I thought the efforts put in by the bowlers were good and the part time bowlers also contributed well. Of course, the batsmen have always done well for us," he said.  
The India skipper said the youngsters should grab the opportunity in the ODI series and get a taste of international cricket.  
"The rivals are two top teams in world cricket. We are hoping that it will be interesting. Both the teams are not fielding their best elevens. Australia have rested about six to seven players.  
"The youngsters are our bench strength and they get chance to prove themselves. They will also get to know how tough international cricket is and learn the areas that they need to improve. I think it will be a good series," he said.  
India have included young batsman
Shikhar Dhawan
apart from newcomers
Murali Vijay
and  R Vinay Kumar for the ODI series, beginning October 17 in Kochi.  
The clean sweep, after today's seven-wicket win, is India's first against Australia but Dhoni refused to be drawn into debate whether it was India's best win.  
"Australia is a very good side whether at home or playing away. They always come up with good strategy and try to do well. Still I will not be able to say whether this is the best win or not. Overall, I am happy with contributions of our players.  
"It was close finish in both games. There was a bit of nervousness in the dressing room. It was a good short test series that we had," Dhoni said.  
Dhoni praised youngsters Murali Vijay and
Cheteshwar Pujara
, who contributed in India's win.  
"Vijay is not able to cement his place in the team because we have Ghambir and Sehwag for us. But whenever he was given the chance, Vijay had scored a decent amount of runs. He really made it big from the kind of start he got. He crossed the century barrier and continued his innings.  
Likewise, Pujara got a good start in the second innings but unfortunately he got out in the first. These are good learning experience for these youngsters," he said.  
Pujara struck a fluent 72 in India's chase of 202 after being sent out to bat at number three.  
Talking about the change in batting order, he said, "The reason was to have experienced player down the order because Rahul bats at number three and Sachin on four and Raina at five or Cheteshwar at 5, that means we do not have experience down the order, which may be needed in a match like this. We were not chasing a big target but the fifth day wicket that matters."  
On the vociferous crowd support, Dhoni said, "Frankly, if a pace bowler comes after 50 over or so, it is basically the crowds that keep batsmen going. We need to do our duty to the country but some sort of a motivation especially with
IPL
and ODI cricket that we play in India we are so used to the crowd support. It was a remarkable crowd for all five days. Today, it was literally houseful". PTI