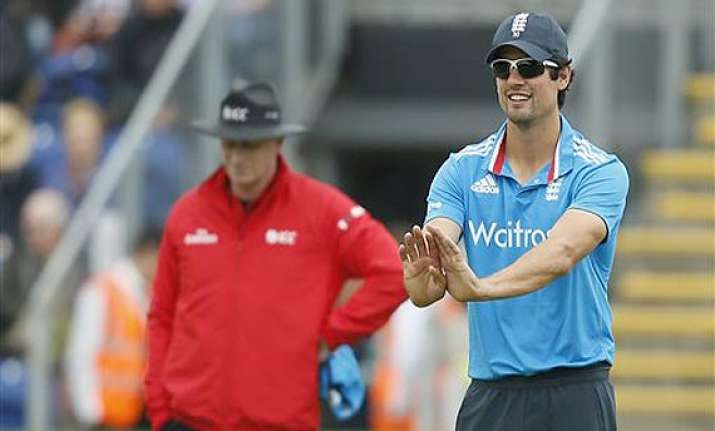 Cardiff: Dejected after a 133-run loss (D/L method) against India in the second one-dayer here today, England skipper Alastair Cook said that his team has a lot of improvement to do if it wants to overturn the 1-0 deficit in the five-match series.
"If we play like that we're not going to win many games of cricket," said Cook. "But the talent in the changing room is there and we've got a lot of improvement to do. We didn't play very well, and we've paid for that today."     
England can always take heart from the Test loss at Lord's and the 3-1 series win thereafter. Cook also said that 'tomorrow is another day'. "But it's one game, isn't it? It's one day of cricket. When you don't get it right - like we haven't today - it's not the end of the world at all. It's frustrating. You don't win every game of cricket you play and you certainly don't win many when you play like that. The lads in the changing room will know that. They don't need me to tell them. So, it's dust ourselves off and try to come back and play better next time," he said.     
Suresh Raina
scored a 75-ball hundred as India heaped on 304/6 in their allotted fifty overs. And then
Ravindra Jadeja
took 4-28 as England were bowled out for 161 in their effort. Cook accepted the batting and bowling failure but took some positives out of the loss.     
"Obviously, it wasn't a 300 wicket and it wasn't a 160 wicket," said Cook. "But we could look at some good spots, I suppose. I thought Chris Woakes (4-52) bowled nicely up front, and came back pretty strong when the carnage was happening."     
"Alex Hales played really well. He'll know that scoring 40s don't win you games. But he batted the same way I've seen him play for Nottinghamshire and that's a really good start. He hits a really clean ball, and can win games of cricket. But as a batting unit as a whole, apart from that first nine or ten overs, 160 on that wicket wasn't good enough," he added.