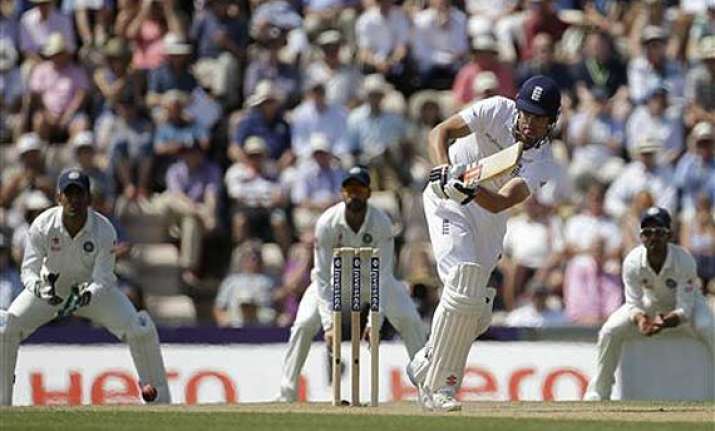 Southampton:  England captain Alastair Cook and in-form Gary Ballance added 58 runs for the second wicket as home team reached 80 for two at lunch in their second innings on the penultimate day of the third cricket Test here today taking their overall lead to 319 runs.
Earlier India were all-out for 330 with an addition of only seven runs to their overnight score of 323 for eight with skipper Mahendra Singh Dhoni (50) failing to add anything to his overnight score.     
James Anderson (5/53) took his 16th five-wicket haul in Test cricket as Cook didn't enforce follow-on and decided to give his bowlers a break. At the break, Cook (29 batting) was at the crease with Ballance (38 runs) unlucky to be given out caught at short leg by umpire Marais Erasmus off Jadeja's bowling (1-9) at the stroke of break.     
The hosts didn't enforce the follow-on after taking a 239-run lead in the first innings. But they weren't in any hurry either when the second innings started. Cook and opening partner Sam Robson (13 runs, 20 balls, 2 fours) looked steady and not a team in pursuit of a specific target to present the opposition.     
Kumar took advantage of this as he had Robson caught at first slip by Dhawan in the 7th over of the innings. First-innings' centurion Ballance then arrived at the crease and he played with a little more urgency than his skipper. Indian bowlers looked like playing the waiting game, knowing full well that they will have to atleast bat four sessions to save this match from here onwards.