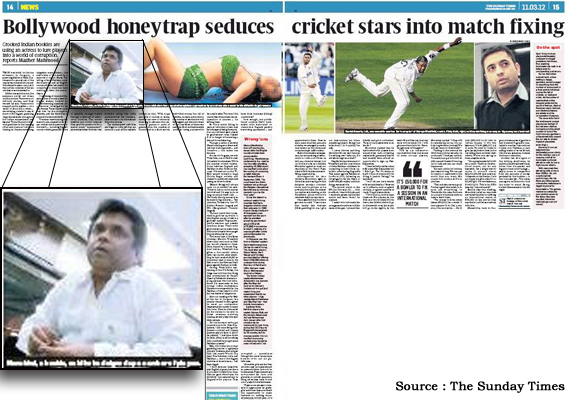 London, Mar 11: The International Cricket Council has begun an inquiry into a network of corrupt bookmakers claiming to be able to fix the results of international fixtures and English county games.

The move follows an investigation into match fixing by The Sunday Times, London,  including allegations that bookmakers on the Indian subcontinent have targeted international players, including several in England, using a Bollywood actress.




Officials were alerted by four players who reported her suspicious approaches to them. The investigation shows the sophistication and scale of the corruption and reveals that, despite the recent jailing of three Pakistan international players and an English county bowler for cheating, that cricketing authorities are under siege.




By infiltrating the network of bookmakers and secretly filming meetings, The Sunday Times established that:

• Tens of thousands of pounds are on offer to fix matches, typically pound stg. 44,000 ($65,000) to batsmen for slow scoring; pound stg. 50,000 for bowlers who concede runs; and as much as pound stg. 750,000 to players or officials who can guarantee the outcome of a match.

Match fixers boast of recruiting players who come from England, New Zealand, West Indies, Pakistan, India and Bangladesh to throw part, or all, of international fixtures, including last year's World Cup semi-final between India and Pakistan.

• The bookies are increasingly turning their attention to English county games because "nobody monitors them".

• Corruption has grown to the point where, according to Indian law enforcement officials, it has become endemic.

The revelation that English county cricket is being targeted will add to concerns raised by the recent jailing of the Essex cricketer Mervyn Westfield. The 23-year-old was given a four-month prison term last month after admitting he had received pound stg. 6000 to concede at least 12 runs in his first over in a 2009 game against Durham.




Undercover reporters working for The Sunday Times captured Vicky Seth, an influential Delhi bookmaker, boasting that he could fix big international events such as Test matches, Twenty20s, and games in both the Indian Premier League and Bangladesh Premier League, adding that "English county cricket is a good new market. They are low-profile matches and nobody monitors them. That's why good money can be made without any hassle if we can get players to play for us".

Another bookie, known as Monubhai, claimed he worked with players from most cricketing nations to fix games, and had recently been offered a chance to sign up New Zealanders.

An ICC spokesman said: "We will launch an inquiry into these serious allegations. Betting on cricket in the legal and illegal markets continues to grow rapidly . . . the threat of corrupters seeking to influence the game has not gone away."