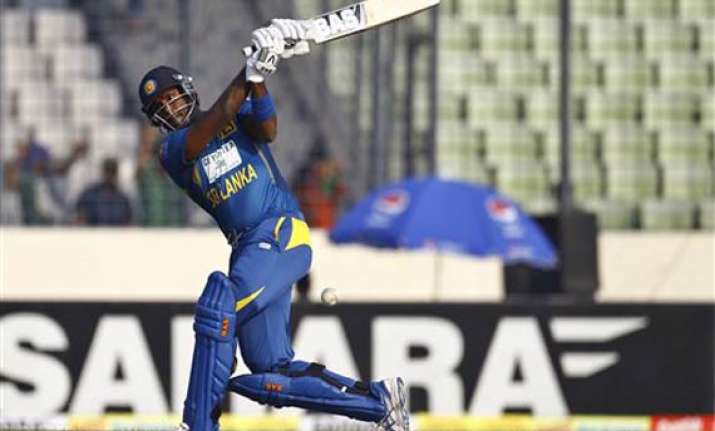 Mirpur: Sri Lanka skipper Angelo Mathews today threw his weight behind an out-of-form Mahela Jayawardene and expressed confidence that the veteran batsman would deliver the goods in the Asia Cup summit showdown against Pakistan here tomorrow.
"I am confident he will come out tomorrow and take the Pakistani attack apart. I wish him all the best. I'm sure he'll deliver for us," Mathews told reporters at the pre-match press conference here.
Coming back from a finger injury, the former Lankan captain has managed just 36 runs from four outings.
"We know he's a world class player. I believe he's a big-match player," Mathews said at the team hotel as the islanders took a day's rest, having played their last league match against Bangladesh last night.
Mathews further pointed out that Lasith Malinga, who had bagged a five-for against Pakistan in the tournament opener, would bring in the X-factor when he returns to the side after being given rest in the dead rubber.
Terming Malinga a transformed bowler, Mathews said: "All the hard work that he has put in makes him a different bowler in the recent past. He's working really hard in the gym, on his fitness, his fielding as well as batting. He's been our premier bowler for so many years. We just want him to continue doing the same things."
"He's an exception in world cricket. He's been performing consistently because he's working hard. He wants to get things right when he walks into the game," Mathews added.
With Malinga set to return, there could be a selection dilemma, but Mathews said it's a healthy problem to have.
"I think when Lasith comes in, the selection will be very hard. All bowlers and batters are doing very well. In fact that's a good problem to have as a selector and as captain.  You want to have a good competition within the team. It's a good problem to have. we will face a tough challenge."
The Sri Lankans might have sailed into the final with four wins from as many matches, but Mathews was guarded.
"It is very challenging because none of the games were easy for us. We had to fight very hard to get into the final.  It's going to be a fresh match. We have to start from the beginning and play positive cricket."