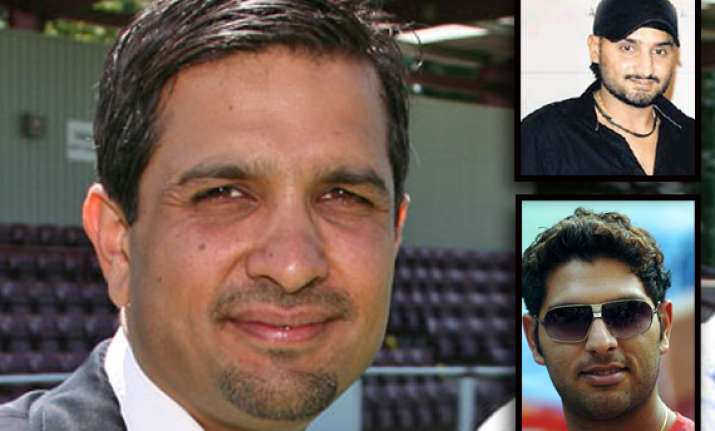 London, Oct 11: Mazhar Majeed, the Pakistani players' agent at the heart of the spot-fixing scandal, bragged to the undercover reporter, Mazhar Mahmood of the now defunct tabloid News of the World, that he "had access" to Harbhajan Singh and Yuvraj Singh.

Majeed also dropped the names of West Indies' Chris Gayle and Australia's Ricky Ponting and Brett Lee. He did not elaborate on what he meant by this.

Mahmood had recorded this conversation, which was re-played on the fourth day of the trial of Pakistani cricketers in the Southwark Crown Court.

Majeed was also heard describing the former IPL commissioner, Lalit Modi, as a "good" friend. In the tapes heard in the court on Monday, Majeed has described Mike Gatting, Phil Tufnell, Geoffrey Boycott and Imran Khan as "good friends".

In this series of name-dropping, Majeed has also mentioned a discussion with Pakistan Cricket Board chairman Ijaz Butt about setting up a Twenty20 tournament in Pakistan.

Mahmood, the undercover journalist who carried out the sting operation that resulted in spot-fixing charges being levelled at three Pakistani cricketers Salman Butt, Mohammad Asif and Mohammad Aamer, gave evidence as a prosecution witness. He described in detail and played tapes of his encounters with Majeed.

Mahmood, who had posed as an Indian businessman in the sting operation, was in court shielded behind a blue screen to protect his identity from the public.

Majeed claimed he had been "fixing" matches for two and a half years and confirmed that he controlled several Pakistani cricketers for this purpose, including Butt, Pakistan's Test captain at that time, and pacemen Asif and Aamer.

The first two have pleaded "not guilty". Aamer appears to have entered a "guilty" plea, but this cannot be officially stated as there are reporting restrictions imposed by the presiding judge, Mr Justice Cooke.

Previously, jurors were shown footage of Majeed being handed £140,000 cash in batches of £50 by Mahmood on the eve of the Lord's Test match last year.

The former lined these up on a table in front of him, and counted one of the bundles. Thereafter, he told the journalist when precisely three no-balls would be bowled by Aamer and Asif the next day.

Mahmood's testimony is crucial to the prosecution argument. He lured Majeed into allegedly agreeing to a plot during Pakistan's 2010 tour of England, to get the three Pakistani cricketers to bowl pre-determined no-balls.

Aftab Jafferjee, the prosecuting barrister, highlighted that point - in one instance, Majeed phoned Aamer at 1.30am, 3am and 6am on the first day of the Test.

The jury was shown tapes of the action from Lord's, pausing to see Aamer's "enormous" overstepping of the popping crease and Asif's no ball.

It also emerged that Majeed was not only dealing in no-balls with the undercover tabloid journalist, but also at least three other underworld figures, trying to fix other events during the match.

One of these was referred to in the court as the head of a "shady" Indian syndicate. Majeed made dozens of calls to the unidentified man, and claimed that "my guy in India makes £40-50,000" on every fixed no-ball.

Jafferjee remarked: "It is as if the sport simply is there as a vehicle with which money is to be made by fixing aspects of the game." As the details were read out, Butt sat pensively in the dock, watching proceedings, his arms folded.