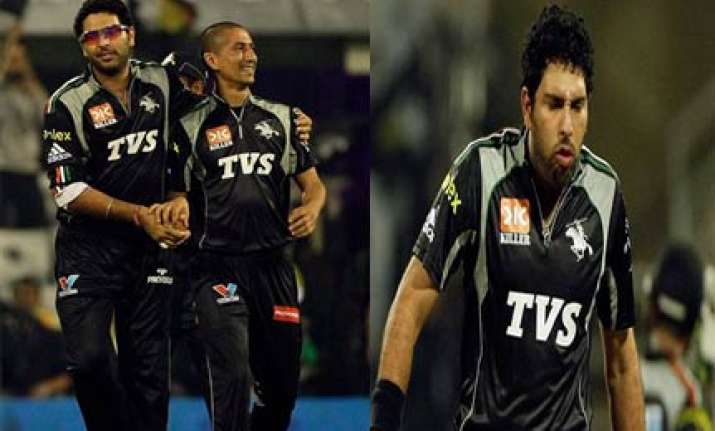 Mumbai, Apr 13 : Pune Warriors skipper Yuvraj Singh today expressed satisfaction at his side's second consecutive victory after beating fellow-IPL debutants Kochi Tuskers Kerala by four-wicket victory at the D Y Patil Stadium today.

Pune Warriors today successfully chased down a victory target of 149, set by the Kochi Tuskers Kerela, to register their second consecutive win in the Indian Premier League and Yuvraj said he was happy with the momentum.

"A win is a win, hard way or easy. I will take it. Very happy with the momentum," said Yuvraj after his side chased Kochi's 148 for 8 with seven balls to spare after surviving some nervous moments.

He praised Mohnish Mishra for finishing the game for his side with an unbeaten 37 off 21 balls."I tell him to bat at no. 6, but he wants to open. His game is suited at no. 6 and he will bat at that position," said Yuvaj.

"After me getting out, (Robin) Uthappa made a quick 25-30 runs and had a good partnership with Mohnish. Mohnish took the match to the end," he added.Yuvraj was also happy with the team's bowling that had their rivals in trouble at 24 for 4 before Kochi fought back."Our bowlers bowled well. We took four quick wickets in the last match too," he said.

Yuvraj said he was happy to bat second in the match."Some captains like to put up a total, some like to chase. Our team is chasing well, did in the last two games.Happy to bat second," he said.

Yuvraj said the collision between Graeme Smith and Rahul Sharma was bad and the extent of injuries to both the players would be known in a day or two.

"He (Graeme Smith) is struggling at the moment. We will assess his injury in the next two days. It was a bad collision in the field. We will come to know about the extent of injuries in one or two days," Yuvraj said.

In the 19th over, there was an on-field collision between Rahul and Smith when both the fielders went for a high catch near the sight screen without calling out to each other.

Smith hurt his knee and needed medical attention and a substitute fielder. Both the players were seen walking out to bat with a substitute runner during their runchase.

Yuvraj was non committal about the decision of the Indian government to resume bilateral cricket ties with Pakistan."It is not in our hands. It's not my call. It's they who decide. My job is to play," he said.

Mohnish Mishra said though he was not accustomed to bat at no. 6, today's knock that fetched him the man of the match award has given him lot of confidence.

"First time I am batting at no. 6. I had the captain's confidence. We had played together in the Challenger Series.  After this knock my confidence level has

increased," said the player who struck 2 fours and as many sixes.  Losing team's captain Mahela Jayawardene was not happy to lose the match by a narrow margin.

"In both the games we ran close, but it is not enough. We have to win the games. We have to regroup and come back well in the next game (against Mumbai Indians on April 15)," he said.

"Ravi (Ravindra Jadeja) and Hodgie (Brad Hodge) batted well and Raiphi Gomez too batted well. 148 was a competitive score," the Sri Lankan batsman said.

Jayawardene said though the team lost four quick wickets the recovery they staged was very good.
"We should have been cautious and tried to build the innings. I thought we could have reached 150, but we lost our way again," he said.

The failure of Mutthiah Muralitharan has raised a question mark, but Jayawardene said they will weigh the options with the arrival of new players like Steven Smith.

"It depends on the opposition. Could use different combinations. We are trying to see what the best eleven could be with Steven coming in. We have to come out with a game plan for Friday.

He also defended his bowlers."R P Singh has been bowling well in the training camp.20-20 cricket is brutal. On one day you may go for runs and on the other take a heap of wickets and change the game for us," he said.

Jayawardene said he and other Sri Lankan cricketers playing in the IPL are yet to receive any communication from his country's board about when to report for the camp ahead of their upcoming tour of England.

"This is news to me as well. I have not been informed yet. We are still talking about it. As players we have to go whenever we are told to come back. I honestly don't

know the understanding between the Sri Lankan and the Indian boards.  They (Sri Lanka Board) have come up with a date and once we are told we have to oblige," he said.

The former Lanka skipper also said that it was wise for the players to have at least one warm-up game in England before the Test series against the hosts.

"Especially in England, need to get used to the conditions. We need to play at least one practice match before the Test series," he said. PTI