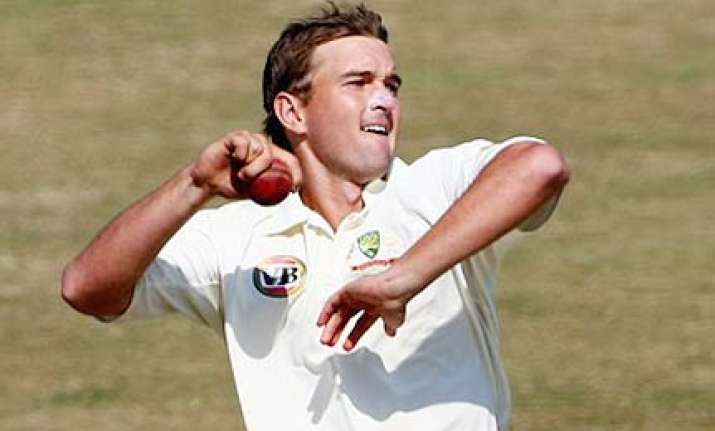 Sydney: Still fuming after being sidelined by his skipper in the first Test against India at Mohali, spinner Nathan Hauritz is talking tough.
Hauritz, who struggled in the first Test at Mohali and was overlooked by skipper Ricky Ponting, has vowed to hit back at his critics.
Ponting had said that he sidelined Hauritz during the nail biting final stages of the Mohali Test against India, and gave chances to part timers Marcus North and Shane Watson instead, in a bid to do something different in his quest for victory.
"I just want them to know that I'm the spinner, I'm the guy that's here to win the Ashes, the guy to win the next Test against India," Nathan told his critics.
"Ever since I've played my first Test I don't think anybody has wanted me in the side - fans and that," The Sydney Morning Herald quoted Hauritz, as saying.
"I could take 10 wickets in a match, and there'll still be someone saying they don't want me to be a part of it. They want someone else, whether it's [Jason] Krezja, Bryce McGain, now it's
Steve Smith
.
"There's always another spinner that can take my spot. I think you have to evolve with it, just accept it's a part of your life. There's always someone out there that thinks there's someone better. I've got great backing from teammates, the captain, selectors," he said.
"I'm the spinner, I'm here to do a job, and here to do a job in the Ashes. I've had a bad few overs, it didn't go well, but I'm going to front up again on Saturday," Hauritz added.
Hauritz hopes that skipper Ponting will show confidence and allow him to bowl in Bangalore.
"That last session I desperately wanted the ball, but my bowling in the morning, a couple of overs there probably didn't give me the right to get the ball. We had a Test match to win, and Ponting goes to what he thinks. We were just all trying to swing the momentum back in our favour," Hauritz said.
"I have no doubts that I'm the person to do the job. Just for that period of the game, rhythm wasn't good, I couldn't land the ball where I wanted to, and it cost me a chance to bowl in the afternoon," he added.