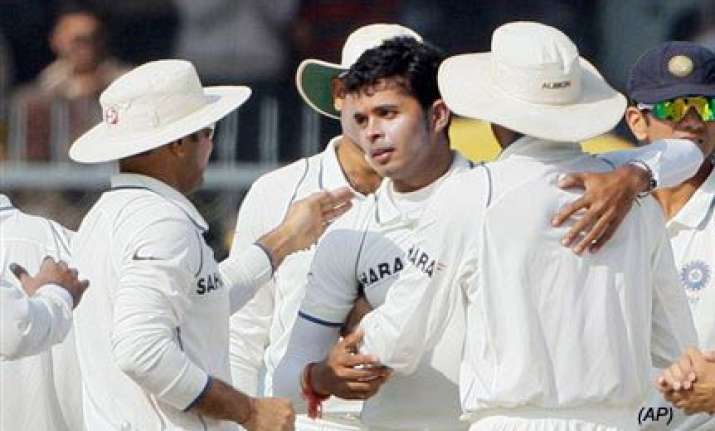 There was no trace whatsoever of their stormy past as S Sreesanth and Harbhajan Singh – main protagonists of the 2008 Slapgate episode -- hobnobbed like long lost mates brought together by the ongoing second India-Sri Lanka Test match in Kanpur on Thursday.
Those who expected sparks to fly in Green Park whenever the volatile duo came near were in for a pleasant surprise as both gave the impression that they have buried the hatchet and moved on in life.
So much so that Sreesanth found himself in Harbhajan's embrace after the temperamental Kerala speedster had removed Tharanga Paranavitana for his first wicket after 19 months in the international wilderness.
The last time the duo hugged each other in full public view was in April last year with Farokh Engineering brokering peace between them.
Harbhajan had slapped Sreesanth in Mohali during an Indian Premier League match involving Mumbai Indians and Kings XI Punjab.
Harbhajan was banned from the remainder of the IPL and Sreesanth was censured and the duo had to perform the unforgettable task of hugging each other in front of lensmen.
Thursday's impeccable camaraderie between them, however, betrayed no signs of the bad blood and the bonhomie suggested all is well between the two most volatile characters in the Indian dressing room.
Manning the mid on, Harbhajan gave the impression that everything was hunky dory with Sreesanth as he kept chirping and clapping to encourage the speedster who was breathing fire in the morning session.
In the post-lunch session, they swapped the role and it was Sreesanth's turn to reciprocate the gesture.
And when Sreesanth completed his five-wicket haul, Harbhajan rushed from mid on to pat his back and ruffle his hair. The offie was also seen clapping for Sreesanth when the teammates left the field with the paceman in front of them.
Later, Sreesanth waxed eloquent about how much Harbhajan backed him. "He has been very supportive. He told me you have got to believe in yourself," Sreesanth said.
"Bhajji paji is like my elder brother and I look up to him as a cricketer and as a human being," added the speedster.
Over all, Sreesanth seemed to have mellowed down a lot and looked more in control of his emotions that often landed him in soup.
Back in the Test side after a 19-month hiatus, the 27-year-old pacer has shown rare poise. He did over-appeal a bit yesterday but it was more because he wanted to make early impression in his comeback match and nothing else.