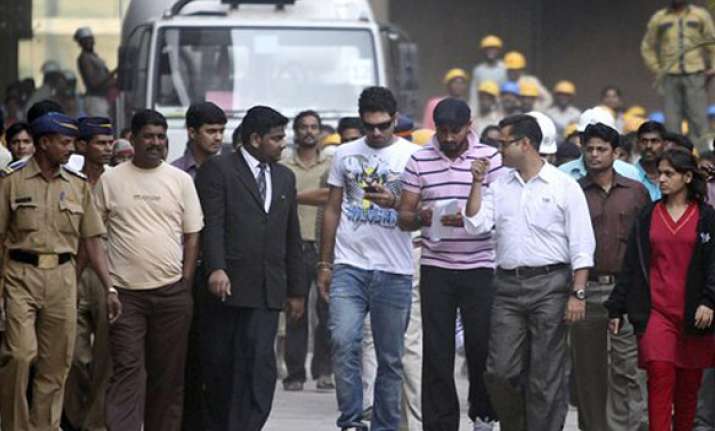 Bangalore, Feb 11:  The entire Indian cricket team, barring off-spinner Harbhajan Singh, underwent a three-hour training session on the penultimate day of the four-day World Cup preparatory camp here today.
Harbhajan's absence at the team practice at the National Cricket Academy raised speculation that he might have picked up a small injury ahead of the World Cup starting next week in the sub-continent.
However, it was later learnt from team sources that Harbhajan skipped the day's proceedings and preferred to rest at his hotel room as it was an optional practice session.
The session started at around 2.30 pm IST at the Chinnaswamy Stadium with a football match instead of the customary fielding drills after which it shifted base to the
NCA nets.
As usual, Virender Sehwag, Gautam Gambhir and Sachin Tendulkar were the first to hit the nets followed by skipper Mahendra Singh Dhoni, Yuvraj Singh and
Virat Kohli
, Yusuf Pathan and
Suresh Raina
in that order.
Surprisingly, left-arm pacer Ashish Nehra was the lone tailender who, for the second day on trot, seemed more interested in nurturing his batting skills at the far end of the NCA ground.
Coach Gary Kirsten, who is on his last assignment with the Indian team, personally monitored all the batsmen while bowling consultant Eric Simmons attended the bowlers.
Right-arm pacer Munaf Patel yet again impressed as he extracted considerable amount and pace from the wicket.
During the fag end of the session, the quartet of Dhoni, Kohli, Gambhir and Raina also tested their big hitting abilities and smacked the ball to all parts of the ground, some of which landed very close to the handful of fans and mediapersons witnessing the session.
India will conclude their preparatory camp tomorrow after which they play their first practice match against defending champions Australian here on Sunday before another one against New Zealand in Chennai on February 16. PTI