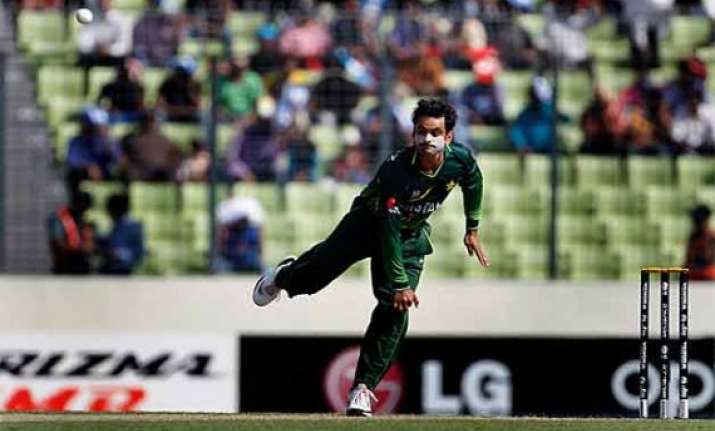 Chennai: Pakistan all-rounder Mohammad Hafeez appeared for the informal bio-mechanic test on his bowling action here on Wednesday. it would take a couple of days to receive the result of the test.
Hafeez was scheduled to appear for the test before the International Cricket Council-accredited lab in Chennai on Jan 3.
 
However, according to some latest reports, Hafeez underwent the test on Wednesday and now he was about to return to Pakistan.
 
The Pakistan off-spinner had left for Chennai on Tuesday.
The spokesman to a question said the PCB had not received the report of the test, which is important for Pakistan in deciding Hafeez's World Cup fate. The report was expected to be received in the next couple of days, he added.
Though the PCB is ready to select 34-year-old Hafeez as batsman, some experts fear the veteran player — in case he fails to get his bowling action cleared — may prove a liability during the World Cup, arguing the 153-ODI veteran is only useful as all-rounder.
Though the PCB has not received the result of Hafeez's test conducted in Chennai, rumours are making rounds that the Board is not that hopeful about the clearance of Hafeez's bowling action and therefore it has decided to look for alternative ways to cope with the problem.
Earlier, top-class off-spinner Saeed Ajmal who played match-winning role for Pakistan in all three formats during the last few years, is also not available for the mega event. And the reason was the same — illegal bowling action.
Ajmal's action was cleared by the ICC, despite extensive rehab work done on him by the PCB with the assistance of former Test off-spinner Saqlain Mushtaq.
Hafeez was reported for an illegal bowling action by umpires during the first Test against New Zealand in November.
Later, the ICC asked him to appear before the National Cricket Performance Centre in Loughborough where he appeared on Dec 7 but failed to clear the test.
Now after that series the PCB has started the work to get Hafeez cleared as the Jan 7 deadline to submit the World Cup squad draws near.