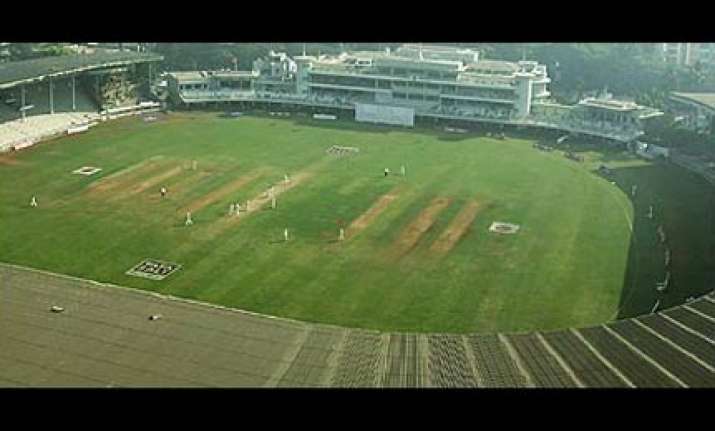 Test cricket returns to Brabourne stadium after 36 years with the third and final match of the series between India and Sri Lanka and the organisers have promised to make it memorable with a good wicket for the December 2-6 game.
"It will be a good Test wicket, a typical CCI wicket. The track will be hard and is expected to provide some bounce. It is expected to help the bowlers in the first session with some moisture underneath," said former Mumbai captain and CCI cricket secretary Milind Rege.
The famous venue, which lost its pre-eminent status to the Wankhede Stadium, which is not available to host the tie as it's undergoing a major revamp, will conduct its first Test since the February 1973 clash between Ajit Wadekar's India and Tony Lewis' England.
Insisting that he as well as others are doing their bit to help the curator in preparing the ground to host the top-class fixture, Rege said that the grass cover on the pitch would be trimmed gradually from Sunday.
"The grass cover would be shaved from tomorrow," he said.
Asked if the wicket would turn out to be something similar to the flat deck prepared for the first Test at Ahmedabad's Motera Stadium, on which close to 1,600 runs were scored, the former Mumbai off spinner said, "I don't think so".
Rege also informed that the Cricket Board's Pitches and Grounds Committee head Daljit Singh will visit the venue tomorrow.
"He's not coming to oversee the pitch preparations, but we will take guidance from him," he said.
The Test would be the 17th to be held at this venue, since 1948-49 when West Indies played two matches in one series and escaped to a draw in the second after dominating the first which also ended in a draw.
Most of the Test matches here have been drawn encounters (11) while India have won four (v Pakistan in 1952, v New Zealand in 1955, v Australia in 1964 and v New Zealand in 1969).
The hosts have suffered two losses (v Gary Sobers's West Indies in 1966 and v Bill Lawry's Australia in 1969). PTI