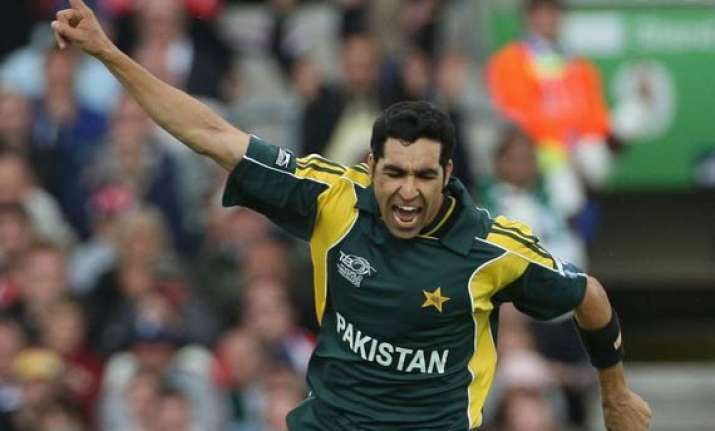 ISLAMABAD: Pakistan fast bowler Umar Gul hopes a month-long summer training camp will help him regain full fitness before the series against Sri Lanka starts in July.
Gul underwent knee surgery in Australia last year and skipped the Champions Trophy and test series against Zimbabwe, South Africa and Sri Lanka.   
Gulm, who has taken 173 wickets in 124 one-day internationals and 80 wickets in 56 Twenty 20s, seemed to struggle for fitness during the ODI series against Sri Lanka late last year, while he took only five wickets in the Asia Cup and six at the World Twenty20 in Bangladesh this year.   
Gul is among 40-odd players who are undergoing strenuous training at Lahore under the supervision of bowling coach Mohammad Akram.   
"It's difficult to make a comeback after surgery, but I am training harder than others so that I could be as fit as I was before the operation," Gul told reporters on Tuesday.   
The Pakistan Cricket Board has revamped its coaching staff after the team failed to retain its Asia Cup title, losing to Sri Lanka in the final while it could not make it to the semifinals of World Twenty20 after West Indies beat them heavily in the last group match.   
Waqar Younis will take over as head coach next month while Mushtaq Ahmed has been hired as bowling consultant, with the PCB still searching for batting and fielding coaches.   
Akram has chalked out an extensive training program for the players in which the main focus is on the fitness of the players.   
"There's no international series (before July) so it's an ideal time to get such a tough training and prepare for the future series," Gul said.   
Gul has skipped Pakistan's last eight test matches due to injury and wasn't sure whether he would be part of Pakistan's test squad against Sri Lanka.   
"It all depends how much fit I am for test matches ," he said. "I will decide later whether I could compete in test matches or not."   
Pakistan's Twenty20 captain Mohammad Hafeez quit soon after the World Twenty20 and Gul said he could only think about leading the side if he regains complete fitness.   
"Honestly I haven't thought about it (captaincy)," he said. "It's an honor to lead your country, but I could only wish for captaincy if I think I am fit enough."