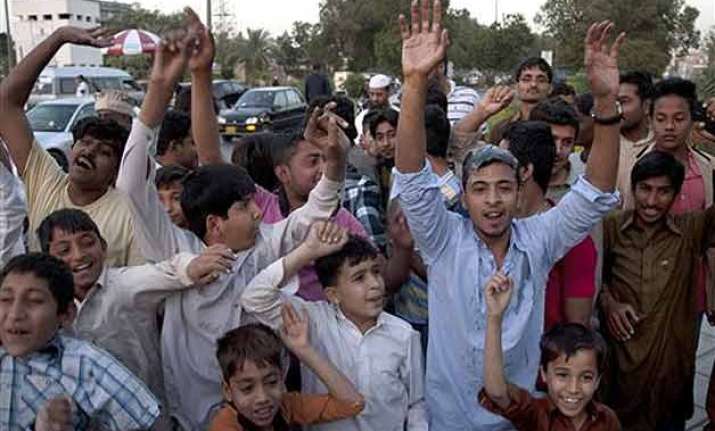 Islamabad: A handful of Pakistan cricket fans smashed eggs on their heads in anger Thursday after the country's chief selector returned home from the World Cup in disgrace because he visited a casino.
Pakistan Cricket Board chairman Shaharyar Khan ordered Moin Khan to come back after the former wicketkeeper was criticized by former players and parliamentarians for dining out at a casino last week in Christchurch.
Going to gambling casinos, which are banned in the country, is unacceptable in Pakistani culture.The frustrated fans at the airport chanted "Enemy of cricket Moin Khan" and "Get Moin Khan out" as the chief selector sneaked out of the airport in the southern port city of Karachi without talking to the media or facing angry fans.
When the fans couldn't see Moin at the airport they vented their anger by smashing eggs on their own heads."I am sorry with the entire nation for hurting them," Moin told The Associated Press in a telephone interview from Karachi. "It was totally unintentional to go to a casino for dinner and in hindsight I chose a wrong place."
Moin, who was member of Pakistan's winning World Cup squad in 1992, was also criticized by former cricketers when the PCB decided to send him with the team to Australia and New Zealand as chief selector.
Pakistan got off to a bad start when it was beaten by India—the sixth time in a World Cup match—before losing its second Pool B match to the West Indies in Christchurch by 150 runs.
Two days before the loss to the West Indies, Moin went to a casino for dinner with his wife and friends. Shaharyar spoke to Moin a number of times and also talked to the team management before deciding to call him home.
The PCB is already planning to revamp the selection committee after the World Cup, so Moin could be out of a job."I don't want to jump to conclusions," said Moin, who is planning to talk to Shaharyar in a couple of days. "Let me first meet with the chairman."