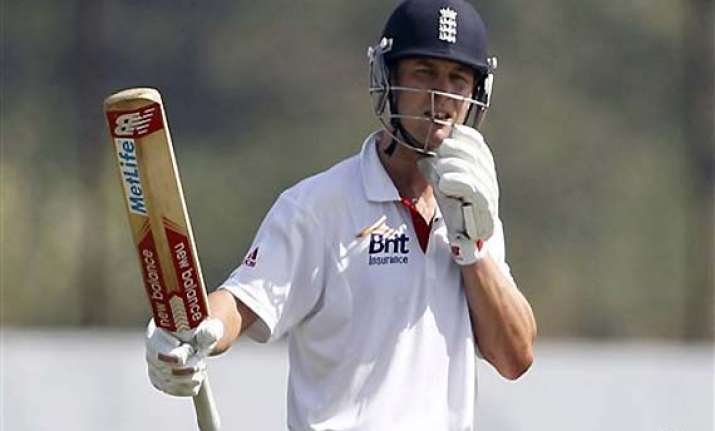 Mumbai, Nov 21: England batsman Jonathan Trott said that the visitors are determined to level four-match series against India in the second Test in Mumbai starting Friday after losing the opener by nine wickets in Ahmedabad.
"I think it will be good to strike early and go to Kolkata 1-1. It is very important that we have that mindset. I think the conditions are bit different here but it will work in both the team's favour with regards to bounce and turn. Touring India is fine but playing good cricket is more important," he told reporters here.
"We need to produce on the field. We are looking forward to Friday. It is a fantastic opportunity for us to get 1-1," the South Africa-born English cricketer added.
Asked about the pitch on offer at the Wankhede Stadium for the second Test, Trott said, "I did have a look at the pitch. It looks a bit similar to the net wicket. It was turning a bit. When you come here, the red soil tends to spin a bit more and you generally get more spin in Mumbai.
"The ball is coming on fine. There is a little more bounce. Ahmedabad was low and slow but here you will find bounce a bit more. Hopefully, our seamers can exploit that."
Trott's assessment of the pitch is different from what India captain Mahendra Singh Dhoni had expected.
After winning the first Test against England at Ahmedabad, Dhoni had expressed his displeasure at the Motera wicket and said that he wanted rank turners for the remainder of the series.
Trott praised young India batsman
Cheteshwar Pujara
for his unbeaten 206 in the first innings in Ahmedabad and said such knocks help a side to win matches.
"We saw Pujara get a good double hundred and that is what wins you Test matches. If we had managed to get an extra 100 runs in the first innings and Alastair (Cook) playing in the same way (he did in the second innings), it would have been a different game. There are a lot of ifs but crux of the matter is that we are 0-1 down and we need to play a lot better on Friday," he said.
On his own form, Trott said, "Form goes up and down. It is a frustrating thing in cricket. There is no guarantee in life and cricket."
"We had good individual performances, but didn't play well as a team. We had opportunities to put India under pressure but it didn't happen."
In the Ahmedabad Test, Trott scored 0 and 17 in two innings and the English batsman wants to prove himself in the remainder of the series.
"I was ambitious coming to the Test tour of India and I want to make the most of it. There are three more matches left so I am looking forward to it," he said.
He added that the team has been successful in the last couple of years and will have to readjust its goal for the tough Indian series.
"We shared goals and how we wanted to achieve things and how we wanted to go about it. It happened a lot quicker than what we expected. It's good to readjust your goals and work towards it. We knew touring India would be a huge challenge. We understand the challenge that lays ahead of us in the next three games," Trott said.