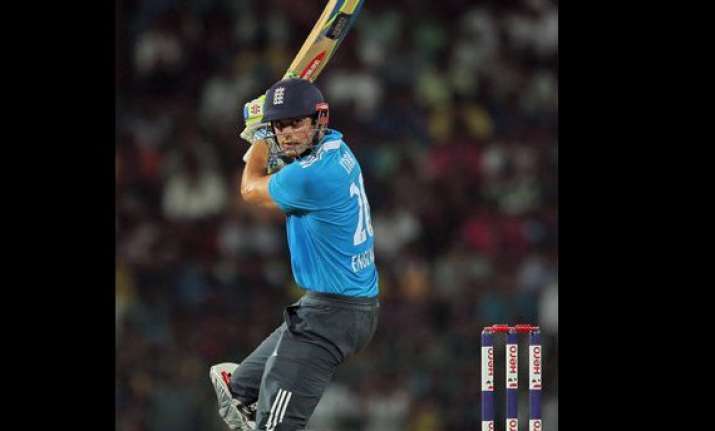 Peeved at the performance of England former fast bowler Darren Gough has launched a ferocious attack on England's selectors as preparations for the World Cup in the new year continue to go from bad to worse.
England were beaten by 87 runs in Colombo on Tuesday to lose the series against Sri Lanka 5-2 and will now return home before heading down under in January for a tri-series ahead of their World Cup opener against Australia on February 14.
Captain Alastair Cook has come in for particular criticism, having not recorded a one-day half-century in 10 attempts, and England and Wales Cricket Board managing director Paul Downton admits the skipper has had a 'terrible' time over the past month.
But Gough, while admitting Cook must take some of the blame, has turned his fire on the selection panel of national selector James Whitaker, head coach Peter Moores, Angus Fraser and Mick Newell.
'England are one of the top sides in the world with the players they've got, but they're playing like a bunch of schoolboys,' he told talkSPORT.
'They've got no serious plan, and the player who's stopping us having a plan is Alastair Cook.
'He's a great bloke and I'm not going to slag him off, but we've just lost a series and the selectors keep saying he's the man to lead England.
'It doesn't matter what he's like as a captain off the field, as a one-day unit we're not good enough and he's at the top of it.
'The selectors should hang their heads in shame. They should be put in the stocks and have apples thrown at them.
'It's a disgrace they keep picking the same team. Let me pick a team. Ring me up and I'll pick a team to go to the World Cup. We probably won't win it but I tell you what, they'll show a bit more style and fight than the team we've picked so far.
'It's embarrassing watching the same mistakes being made time and time again.
'The selectors haven't got a leg to stand on. One of them come out and show some balls, will you?
Few players have emerged from the Sri Lanka tour with much credit, with Yorkshire batsman Joe Root - who finished the trip with three consecutive half-centuries - the major plus-point while James Taylor also pushed his claims for a World Cup place.
The selection meeting for England's World Cup squad takes place on Friday.