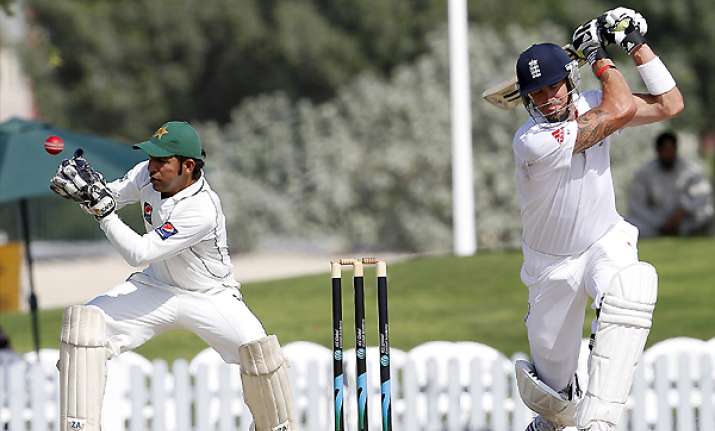 Dubai, Jan 12: England batting coach Graham Gooch said it is "not the time to panic" despite several top-order players registering low scores Wednesday in the final three-day warmup game before next week's first test against Pakistan.

Vice captain Alastair Cook made an accomplished 133 but no other batsman reached 50 as England battled its way to 269 for nine wickets declared against a Pakistan Cricket Board XI, which replied with 23-0 by the close of play on the opening day.

England batsmen Jonathan Trott and Ian Bell made ducks at the ICC Global Cricket Academy, while Kevin Pietersen fell for 38 after taking time to establish himself and Eoin Morgan scored only 11 — giving him a total of 15 runs in three innings on tour so far.

"One or two of them will be disappointed not to spend more time in the middle but it's not the time to panic," Gooch said. "We know this happens regularly and I don't think it's time to start changing the way you think. You've got to believe in yourself, hopefully get another knock and it will come good.

"Our (batting) unit has done pretty well in the past; they have all had success, so they have got to stay strong mentally and believe. You don't become a bad player over a couple of innings."

England's chief tormentor was legspinner Yasir Shah, who captured 5-76, and Gooch said how England's batsmen cope with spin against Pakistan is likely to determine the course of the test series.

"We continue to seek to improve against all types of bowling but spin is going to play a big part here, so we have got to get our heads around how we are going to cope with that," Gooch said. "Each player has got to work out his game. I'm not unduly concerned that it is going to be difficult for us, but if we are going to prevail we have got to cope with that."

Shah bowled 26 overs and afterward said Pakistan believed England's play against spin bowling was the side's main weakness.

"England is one of the best batting sides but sometimes they struggle against spinners so we have a very good chance to get them out in the Test matches," he said. "My target was to get five wickets against England, one of the best teams. I am very pleased to do that and my confidence has gone up."

It was the second time in two matches that Cook has passed 50 on tour, after his first-innings 76 against an ICC XI on Saturday.

The left-hander showed a great deal of patience in facing 260 balls, hitting 10 fours. Pietersen and Cook added 83 and Cook and Prior (46), back in the side after missing the previous match with a bruised finger, put together a stand of 90.

The first test of the three-match series starts at Dubai Sports City on Tuesday.