Follow us on Eyes may continue to water, tongue may continue to resist the spiciness, yet one thing that you still can't say no to is – the tempting, mouth-watering and delectable snack of India - 'pani-puri' aka the 'golgappas'.
Best eaten roadside, in open, with friends – this one snack brings entire India together. Be it some snobbish, high-profile or a small-town lad, an upset girlfriend or a tired employee, a Hindu or a Muslim – just everyone has a similar and unfading love for 'golgappas'.
As is usually said in a funny manner also, this is one thing for which you don't ever mind extending your hand with a paper bowl and saying, "Bhaiyya ek aur de do".  
But then keeping the adulteration and unhygienic conditions in mind, let's tell you how you can make this delectable and irresistible munchie at home and even store it for as long as a month and continue eating it as and when you want.  
So, here's the easy and quick to learn recipe for you –  
ALSO READ: Now make your favourite veg momos at home!
(Though Golgappas can be made from wheat also, but here we will tell you how you can make them by mixing 'maida' and 'suji')
Ingredients -
For Puri– White Flour (maida), fine-grain semolina (sooji), oil and baking powder.
For Pani - Green coriander (Dhaniya), Mint (Pudina), Tamarind/Amchur powder, Green chilly, Ginger, Roasted Jeera, Black pepper powder, Salt, Black salt.
Steps -
1) Take 1 cup sooji, 1 tsp maida, 1 tsp oil, 3 to 4 pinch of baking soda and ¼ tsp salt.
2) Mix them together well as shown in the picture below.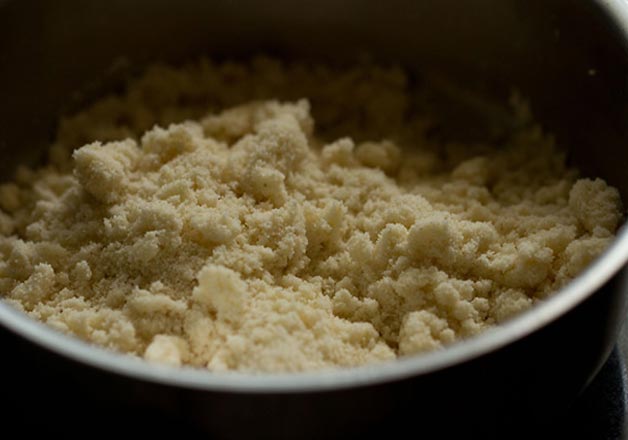 3) Now add some water to it and knead dough. (This is important as you need to knead the dough well. Do not make it too soft. Make it hard, the way you make for 'puris'. Ensure that the dough is elastic so that the puri may not become soft after frying).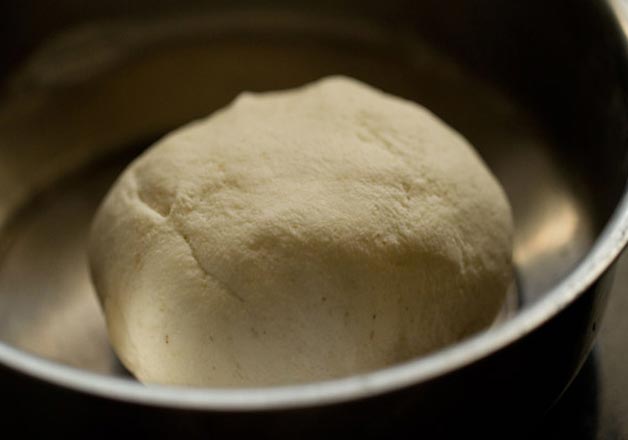 4) Now cover the kneaded dough with a soft, moist cloth and keep it aside for atleast 20-30 minutes for fermenting.
5) After this, make a big even-surfaced chapatti from a large piece of dough and then cut it into small round pieces with the help of a bowl or a round-cutter.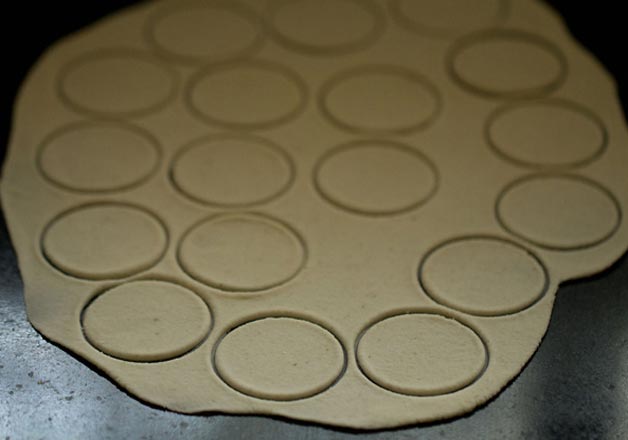 6) Pull out the remaining portion of chapatti and again fold it to make more 'puris'.
7) Meanwhile, keep the already made 'puris' covered with a moist cloth and separate from each other.
8) Keep making till the entire dough is done. The shape of the puri could be of your choice – either round or oval.
9) Now take oil in a frying pan. Heat it for some time and then fry atleast 6-7 puris in it at one go.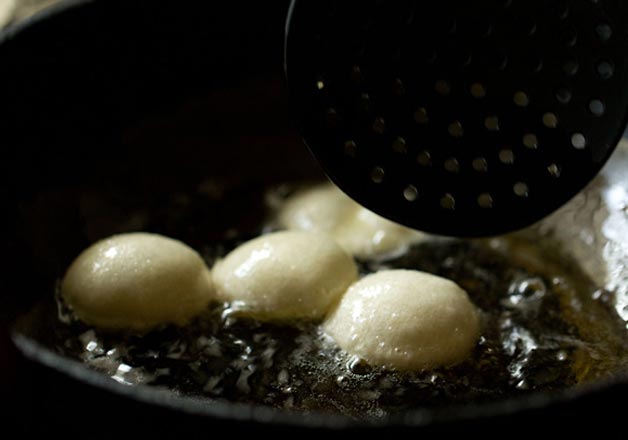 10) Keep pressing the puris while in the pan, so that they may become puffy.
11) Once they are puffed turn the side and continue frying till they turn golden brown.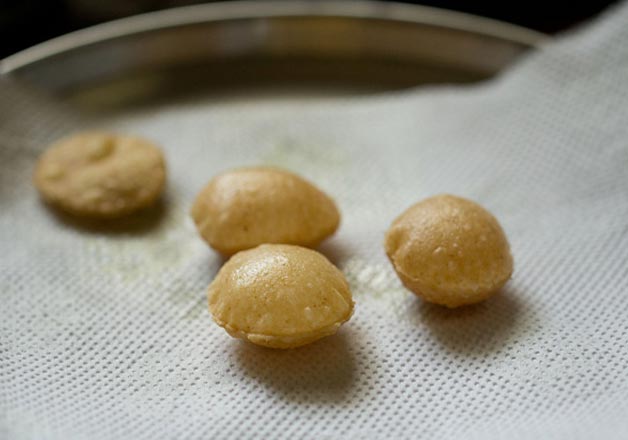 12) Make puris with the entire dough and leave them in open to cool down.
13) As soon as they come to room temperature, put them in a container and close it tight.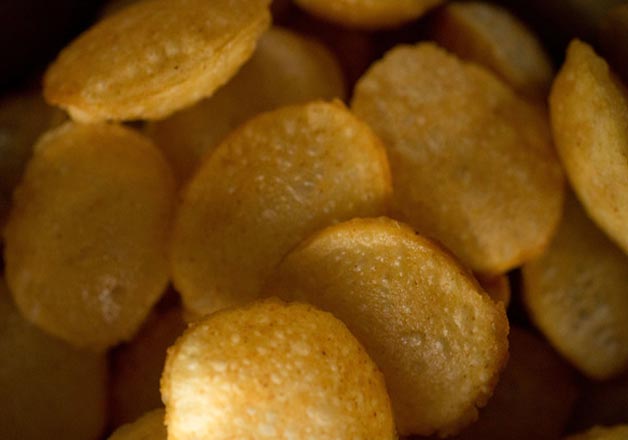 14) Now they are ready to consume. For pani of 'pani puri', you can either buy the ready-to-consume packets available easily at stores, or use the Jal Jeera powder.
15) Alternatively, you can make this also at home with the following ingredients –
      Green coriander (Dhaniya) - 1/2 cup
      Mint (Pudina) - 1/2 cup
      Tamarind/Amchur powder - 2 tsp (or juice of 2 lemons)
      Green chilly - 2
      Ginger - 1 inch long piece
      Roasted Jeera - 2 tsp
      Black pepper powder - 1/4 tsp( if you prefer spicy)
      Salt - add to taste (1 tsp)
      Black salt - 1 tsp
16)  Break off the stems of coriander and mint leaves. Wash them properly and mix them with the rest of the spices. Now grind them all to make a fine paste.
17)  After this, add this paste to 2 litres of water.
18)  The delectable 'golgappas' are ready to consume.