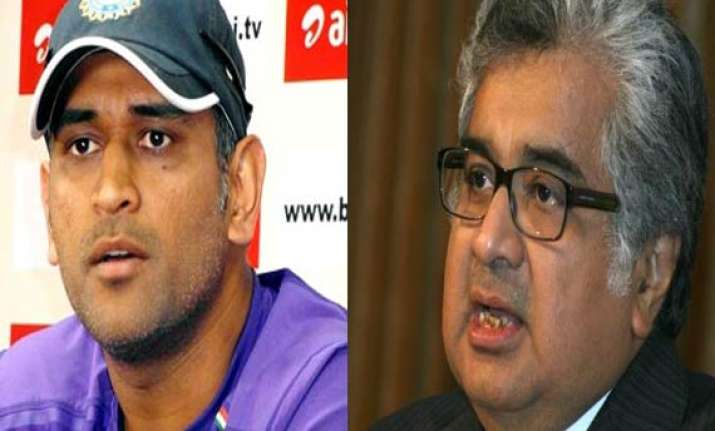 New Delhi: India skipper Mahendra Singh Dhoni will be answerable if an enquiry is ordered into cover up of the IPL betting and fixing scandal since he lied to the probe panel that Gurunath Meiyappan was not associated with CSK in any official capacity, senior Counsel Harish Salve said today.
While deposing before the Mukul Mudgal-headed probe panel, appointed by Supreme Court, Dhoni had corroborated BCCI chief N Srinivasan's remarks that Meiyappan was a mere a cricket enthusiast.
Salve, who appeared in Supreme Court for the petitioner Aditya Verma, secretary of Cricket Association of Bihar, said it was indeed a lie aimed at covering up.
"He (Dhoni) said this on record. In one voice with Mr Srinivasan he said that Meiyappan was only an enthusiast. I have no personal knowledge of it, it is the report that said.  According to the report, Meiyappan used to sit in the players dug out and was also there in the players auction for the team (CSK). And Dhoni knew it. What was the need for the captain to say that. The definition of corruption includes cover up," Salve said.
"It is in IPL definition that cover up is part of corruption. It (Dhoni's statement) is not secret. He just made error in judgement. I have respect for him as a cricketer and I feel for him," he said.
Asked if Dhoni was answerable, Salve said, "absolutely,if there is an enquiry for cover up."
"Why he told the Committee? And by defending Dhoni, BCCI has further compromised his position. BCCI as a disciplinary body should have asked Dhoni why you made such statement. It's the BCCI which has aligned with India Cements and questioned the Committee report," he said.
In the wake of last year's IPL scandal, the Supreme Court today handed the reins of BCCI to legendary Sunil Gavaskar as Interim President to look after the IPL while Shivlal Yadav will be the president for non-IPL affairs.
A bench of justices A K Patnaik and F M Ibrahim Kalifulla though stopped short of preventing CSK and Rajasthan Royals from participating in the seventh edition of the IPL, beginning April 16 in Dubai.
The court said Gavaskar will not work as a commentator during this period and asked the BCCI to compensate him.