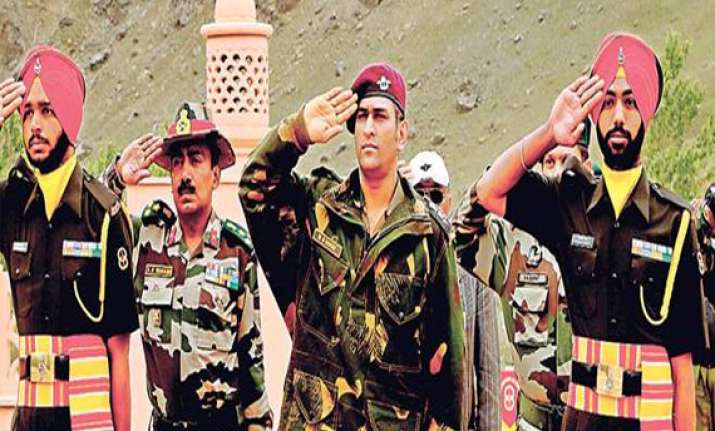 Srinagar, June 8 : Team India captain Mahendra Singh Dhoni had a crew cut in Kargil, after  he ws asked to follow rules applicable to all jawans and officers.
During his trip to meet army jawans in Jammu and Kashmir, Dhoni's hair was noticed hanging out of his army cap. 
There were criticisms on social networking sites like Facebook and Twitter over the violation of Army rules, after which Dhoni decided to go in for a crew cut on his last day in Kargil. 
Dhoni was seen in a crew cut at the wreath laying ceremony at the tomb of Army martyrs at the Kargil War Memorial.
Dhoni holds the honorary rank of Lieutenant Colonel in the Territorial Army. He visited Dras and Kargil on the second day of his visit to the Ladakh region.
"It amazes me to see our brave soldiers withstanding such rugged terrain and weather to protect our national frontiers," said a visibly-moved Dhoni after interacting with the troops here.
The Kargil sector is characterized by rugged peaks and hostile weather conditions that demand utmost physical and mental fitness from the soldiers to operate here.
He commented on his appointement as an honorary lieutenant colonel, "Why I got here is because of cricket. I would like to serve actively only after cricket. I don`t want my cricket to suffer because that is something I am good at. Once my cricket career is over, I would definitely like to serve in the Army," Dhoni told reporters.