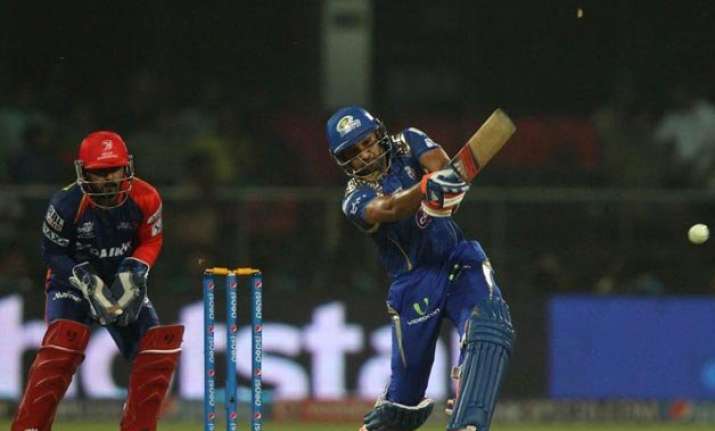 New Delhi: Scoreboard of Delhi Daredevils vs Mumbai Indians, Match 21 of Indian Premier League 2015 played at Feroz Shah Kotla here on Thursday.
Leg Spinner Imran Tahir returned a three-wicket haul after skipper Jean-Paul Duminy and Shreyas Iyer's batting exploits as Delhi Daredevils ended a nine-match losing streak at home with a 37-run win over Mumbai Indians.
Chasing a formidable target of 191, Mumbai managed only 153 for nine. With the win, Daredevils improved to six points from six matches, occupying the fourth spot.
Mumbai succumbed to their fifth loss in six matches to drop to the last spot in the standings.
Delhi Daredevils innings: 190/4 in 20 overs
| | | |
| --- | --- | --- |
|  Mayank Agarwal |  c Rayudu b McClenaghan |  1 |
|  Shreyas Iyer |  b Malinga |  83 |
|  JP Duminy |  not out |  78* |
|  Angelo Mathews |  c Patel b McClenaghan |  17 |
|  Yuvraj Singh |  c Pollard b Bumrah |  2 |
|  Kedar Jadhav |  not out |  1* |
|  Extras |  (lb 1, wd 6, nb 1) |  8 |
|  Total |  for 4 wickets |  190 |
|  Overs |  innings break |  20 |
|  Fall of wickets                               |  1-2 (Agarwal, 0.3 ov), 2-156 (Iyer, 16.4 ov), 3-174 (Mathews, 17.6 ov), 4-187 (Yuvraj, 19.3 ov) |                          |
Did not bat: Nathan Coulter-Nile, Amit Mishra, Shahbaz Nadeem, Imran Tahir, Dominic Joseph
Bowling
| | | | | |
| --- | --- | --- | --- | --- |
|  Bowler |  Overs |  Maidens |  Runs |  Wickets |
|  Mitchell McClenaghan |  4 |  0 |  38 |  2 |
|  Lasith Malinga |  4 |  0 |  23 |  1 |
|  Jasprit Bumrah |  4 |  0 |  55 |  1 |
|  Harbhajan Singh |  4 |  0 |  34 |  0 |
|  Hardik Pandya |  2 |  0 |  14 |  0 |
|  Kieron Pollard |  2            |  0 |  25          |  0 |
Mumbai Indians innings: 153/9 in 20 overs
| | | |
| --- | --- | --- |
|  Lendl Simmons |  c Duminy b Joseph |  15 |
|  Parthiv Patel |  c Tahir b Mathews |  28 |
|  Unmukt Chand |  st Jadhav b Mishra |  14 |
|  Rohit Sharma |  c Nadeem b Coulter-Nile |  30 |
|  Kieron Pollard |  c Nadeem b Mishra |  10 |
|  Ambati Rayudu |  c Coulter-Nile b Tahir |  30 |
|  Hardik Pandya |  c Coulter-Nile b Tahir |  0 |
|  Harbhajan Singh |  c sub (Jayant Yadav) b Mathews |  9 |
|  Mitchell McClenaghan |  c Jadhav b Tahir |  0 |
|  Lasith Malinga |  not out |  6* |
|  Jasprit Bumrah |  not out |  0* |
|  Extras |  (lb 2, wd 9) |  11 |
|  Total |  for 9 wickets |  153 |
|  Overs |  match over |  20 |
|  Fall of wickets                                |  1-35 (Simmons, 4.2 ov), 2-48 (Patel, 5.6 ov), 3-68 (Chand, 8.2 ov), 4-82 (Pollard, 10.2 ov), 5-131 (Rohit, 15.6 ov), 6-131 (Pandya, 16.1 ov), 7-135 (Rayudu, 16.3 ov), 8-135 (McClenaghan, 16.4 ov), 9-153 (Harbhajan, 19.4 ov) |                      |
Bowling
| | | | | |
| --- | --- | --- | --- | --- |
|  Bowler |  Overs |  Maidens |  Runs |  Wickets |
|  Nathan Coulter-Nile |  4 |  0 |  36 |  1 |
|  Dominic Joseph |  2 |  0 |  7 |  1 |
|  JP Duminy |  1 |  0 |  14 |  0 |
|  Angelo Mathews |  2 |  0 |  15 |  2 |
|  Amit Mishra |  4 |  0 |  32 |  2 |
|  Shahbaz Nadeem |  3 |  0 |  25 |  0 |
|  Imran Tahir |  4 |  0 |  22 |  3 |