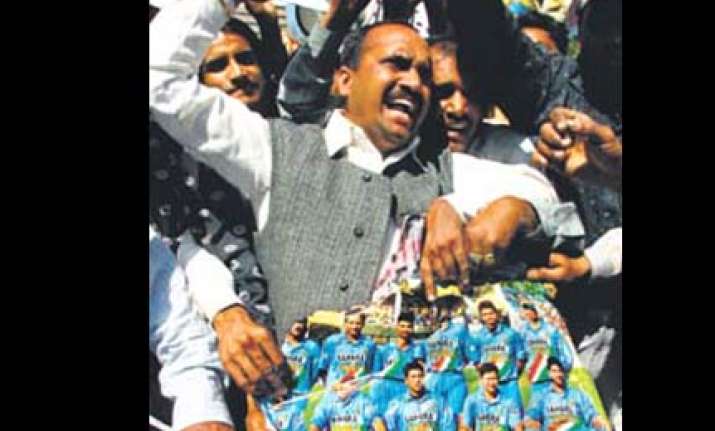 Conduct of an International Cricket match in Hyderabad has yet again become controversial with allegations of large scale black-marketing of tickets for the India-Australia , as irate cricket fans staged a protest outside the Hyderabad International Cricket Stadium at Uppal on Thursday. 
No less than the State's Sports Minister Komatireddy Venkat Reddy spit fire at the organisers and shot off a letter to BCCI president Shashank Manohar complaining about sale of cricket match tickets in the black market.
"This (black-marketing of tickets) is causing grave concern and disappointment among cricket lovers in the State and embarrassment to the government," the Sports Minister said in the letter.
Venkat Reddy said he would also hold talks personally with the BCCI authorities as well as BCCI chief Sharad Pawar on the issue.
The Minister said the State government gave 22 acres of prime land to the Hyderabad Cricket Association (HCA) for construction of the stadium at Uppal. But, the HCA was not acting in a transparent manner in the sale of tickets.
"There are a lot of complaints to me and also adverse news reports in the media regarding the sale of tickets in the black market. The HCA has not even been following minimum protocol in relation to the government functionaries despite securing huge concessions from the State government," the Minister noted.
Though, he tried to contact the Hyderabad Cricket Association officials, including its president and former minister G Vinod, to enquire about the issue, none responded, Venkat Reddy alleged.
The Sports Minister pointed out that only about 28,000 tickets were supposedly sold through a particular bank counters, though the stadium has a seating capacity of 40,000. This gave scope for suspicion that tickets were black-marketed, he added.
"I had to finally call the Cyberabad Commissioner of Police Prabhakar Reddy and caution him about the ticket sale in the black market," he said.
Infact, the previous Collector of Ranga Reddy district Praveen Prakash had written a letter to BCCI authorities in 2007 pointing to the "large-scale irregularities" in sale of tickets for the India-Australia ODI held at Uppal that year and warned that he would invoke his magisterial powers if the HCA did not sell tickets in a transparent manner to the ordinary cricket lovers.
But, neither the BCCI nor the HCA officials seem to have taken the Collector's warning seriously as the current events proved. PTI