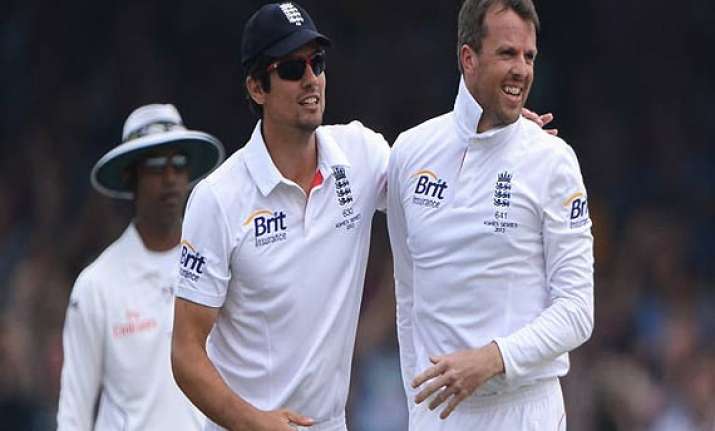 Cardiff: Defeat in the second ODI might have hurt  England captain Alastair Cook who was till last week enjoying the remarkable success of the test  series against India but what hurt him most was the remark made by his once colleague Graeme Swann who suggested England would be better off without his captaincy at the World Cup.
There was little to cheer on the field as
Suresh Raina
hit a brilliant 74-ball hundred in India's 304 for six and then England were bowled out for 161 in pursuit of a revised target of 295.
But if anything, Cook appeared even less pleased by ex-England off-spinner Swann's remarks from the sidelines in his role as a pundit, that for his own sake and his team's he should give one-day internationals a miss for the remainder of his career.
'I don't think it's that helpful - especially from a so-called friend,' said Cook, who spent much of the summer resisting similar calls to step aside from the Test captaincy - before making many eat their words as England fought back to beat India 3-1.
Swann is adamant Cook's ODI strike rate does not set the tone that will make England competitive in next year's World Cup in New Zealand and Australia.
'He's entitled to his opinion,' added Cook.
'(But) it's not ideal for me, especially when you get through the summer I've had.'
He has not contacted Swann - but has left open the possibility that a call could come in the opposite direction.
'The phone is always open the other way,' said Cook, before repeating he will not be deflected from his intention to lead England down under next winter. I am a little bit (disappointed) - because he is a good friend of mine, and has been a supporter.
'It's not helpful at this time, because I am going to be captain in this World Cup. I've done it for three-and-a-half years. We're going to build up to that, and we've got a good chance.'
Cook acknowledges, however, much better will be required if England are to beat the best.