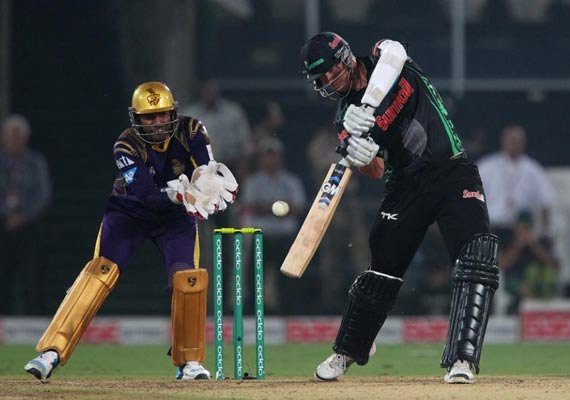 Hyderabad: Scoreboard after the reigning IPL champions Kolkata Knight Riders defeated Dolphins by 36 runs in the 18th match of 2014 CLT20 played at Rajiv Gandhi International Stadium, Uppal, Hyderabad on Monday.
Chasing the imposing total, the Dolphins witnessed a horrendous start as they slumped to 57 for four in 8.6 overs.
Opener Cameron Delport and Cody Chetty was dismissed in the first two overs but skipper Morne van Wyk kept alive Dolhins' fight with a 28-ball 34 during which he struck five fours and one six before he became part-time spinner Yusuf Pathan's (2/25) second victim of the day.
In between Vaughn van Jaarsveld (19) was stumped by Uthappa off Piyush Chawla.
Kolkata Knight Riders innings
| | | |
| --- | --- | --- |
|  Robin Uthappa                     |  not out |  85* |
|  Gautam Gambhir                 |  b Frylinck |  12 |
|  Jacques Kallis |  b Alexander |  6 |
|  Manish Pandey |  not out |  76* |
|  Extras                                   |  (w 6, lb 2) |  8 |
|  Overs                                 |  innings break |  20                 |
|  Total                            |  for 2 wickets |  187       |
|  Fall of wickets |  1-25 (Gambhir, 3.4 ov), 2-34 (Kallis, 4.6 ov) |   |
Did not bat: Ryan ten Doeschate, Yusuf Pathan, Suryakumar Yadav, Andre Russell, Piyush Chawla, Sunil Narine, Kuldeep Yadav
Bowling
| | | | | |
| --- | --- | --- | --- | --- |
|  Bowler |  Overs |  Maidens |  Runs |  Wickets |
|  Kyle Abbott |  4 |  0 |  39 |  0 |
|  Craig Alexander |  4 |  0 |  36 |  1 |
|  Robbie Frylinck |  4 |  0 |  29 |  1 |
|  Cameron Delport |  2 |  0 |  19 |  0 |
|  Andile Phehlukwayo |  1            |  0 |  17         |  0 |
|  Prenelan Subrayen |  4 |  0 |  30 |  0 |
|  Khayelihle Zondo |  1 |  0 |  15 |  0 |
Dolphins innings
| | | |
| --- | --- | --- |
|  Morne van Wyk |  c Pandey b Pathan |  34 |
|  Cameron Delport |  c Gambhir b Pathan |  0 |
|  Cody Chetty |  c Narine b Russell |  1              |
|  Vaughn van Jaarsveld |  st Uthappa b Chawla |  19    |
|  Khaya Zondo |  c Chawla b Narine |  32 |
|  Andile Phehlukwayo |  b Narine |  37 |
|  Robbie Frylinck |  c Chawla b Narine |  11 |
|  Jonathan Vandiar |  c Suryakumar Yadav b Kuldeep Yadav |  1 |
|  Kyle Abbott |  not out |  5* |
|  Prenelan Subrayen |  not out |  7* |
|  Extras |  (lb 2, w 2) |  4 |
|  Overs                                     |  match over |  20 |
|  Total                                    |  for 8 wickets |  151 |
|  Fall of wickets |  1-5 (Delport, 0.5 ov), 2-6 (Chetty, 1.2 ov), 3-53 (van Jaarsveld, 7.6 ov), 4-57 (van Wyk, 8.6 ov), 5-120 (Phehlukwayo, 14.4 ov), 6-136 (Frylinck, 16.5 ov), 7-136 (Zondo, 16.6 ov), 8-138 (Vandiar, 17.4 ov) |   |
Did not bat: Craig Alexander
Bowling
| | | | | |
| --- | --- | --- | --- | --- |
|  Bowler |  Overs |  Maidens |  Runs |  Wickets |
|  Yusuf Pathan |  4 |  0 |  25 |  2 |
|  Andre Russell |  3 |  0 |  17 |  1 |
|  Kuldeep Yadav |  4 |  0 |  30 |  1 |
|  Sunil Narine |  4 |  0 |  33 |  3 |
|  Piyush Chawla |  3 |  0 |  19 |  1 |
|  Suryakumar Yadav |  1             |  0 |  7              |  0 |
|  Ryan ten Doeschate |  1 |  0 |  18 |  0 |
Result: Kolkata Knight Riders won by 36 runs
Man of the Match: Robin Uthappa
Toss: KKR chose to bat