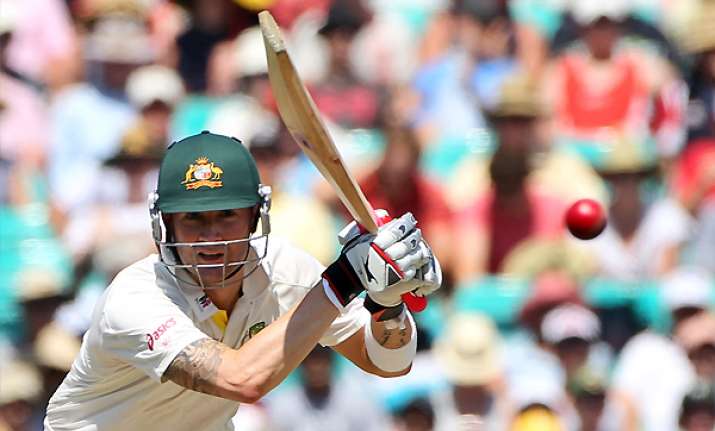 Perth, Jan 12: Australia captain Michael Clarke has ensured history does not repeat itself at the WACA ground by refusing to be drawn into off-field issues as Australia prepares to seal the four-test series against India starting Friday.

Australia leads the series 2-0 following emphatic wins in Melbourne and Sydney, but Clarke remains wary of India after it overcame all odds to beat Ricky Ponting's team here in 2008 during a series marred by incidents both on and off the field.

Ponting and Michael Hussey conceded that the team was distracted going in to the corresponding test four years ago that led to a 72-run loss.

Following the innings and 68-run defeat in Sydney last week, Australia wicketkeeper Brad Haddin questioned India's mental toughness, to which Indian swing bowler Zaheer Khan hit back questioning the Australian's keeping that has hit a new low during the series.

"I am not here to get involved in any of those (statements)," Clarke said of the altercation. "I'm here to make sure the Australian team is 100 percent prepared and ready to go for a very important test match.

"India are a very strong opposition and I've seen that throughout my whole career, and they will be tougher to beat than they have been in the first two tests."

Clarke was also quick to distance the present team from the one that had a heated relationship with India in 2007.

"I am glad I don't have to think about that to be honest," Clarke said referring to ill-tempered series. "I am here to ensure that this Australian team plays the right brand of cricket, respects the opposition and continues to have success. That's my goal and we have done that so far.

"It's about mutual respect for each other," he added. "The series has been wonderful for test cricket. I don't see this test match being any different."

With the prospect of a lushly grassed pitch for the third test both Clarke and his Indian counterpart Mahendra Singh Dhoni remained tight lipped about their likely sides. Both pace and bounce will greet both teams, with the fast bowlers expected to stamp their mark in the test.

"I've seen India be successful against fast bowling and spin bowling," Clarke said. "It's more so how best to win the test," Clarke said about his final lineup.

Australia will be forced to make one change, replacing the injured fast bowler James Pattinson with seam bowler Ryan Harris and if a four-pronged pace attacked is preferred, offspinner Nathan Lyon will make way for Mitchell Starc.

Clarke said while he refuses to criticize the opposition he will not stop his players from doing so as long as they don't cross the line.

"It's a big part of the game. It's a big part of sport. Every player has the right to be who they are as people ... on or off the field," he said.

"I think the banter between Zaheer and Brad is good for the game. I don't think either of them have overstepped the line. Once they take the field they will know there is a line to cross. They are very good players and very respected players. It's a great game for showing who you are as a person and your character."

Dhoni's Indians have now lost six overseas tests in a row including a 4-0 series to top-ranked England during the last northern summer. But Dhoni believes despite the two heavy defeats in Australia the team has tried hard.

"It does hurt a bit," Dhoni said when his team's emotions were questioned. "We are sportsmen, and we will come back and try harder rather than sob about it.

"We have shown that we are competing and that's good for me. In England we didn't compete to the extend we should have. We didn't perform to the best of our abilities. That's the area we want to improve."

Indian batting great Sachin Tendulkar will be hoping to end his 10-month spell without a century and become the first batsman to score a 100th international 100.

Tendulkar has been the mainstay of the Indian batting so far this series with scores of 73, 32, 41 and 80, but a century remains elusive to the greatest batsman of modern cricket.

India is expected to name an unchanged lineup from Sydney, but if the visitors opt for an additional paceman, swing bowler Vinay Kumar will replace offspinner and allrounder Ravi Ashwin.

Lineups:

Australia: David Warner, Ed Cowan, Shaun Marsh, Ricky Ponting, Michael Clarke (captain), Michael Hussey, Brad Haddin, Peter Siddle, Ryan Harris, Ben Hilfenhaus, Nathan Lyon or Mitchell Starc.

India: Virender Sehwag, Gautam Gambhir, Rahul Dravid, Sachin Tendulkar, V.V.S. Laxman, Virat Kohli, Mahendra Singh Dhoni (captain), Ravi Ashwin or Vinay Kumar, Zaheer Khan, Ishant Sharma, Umesh Yadav.

Umpires: Aleem Dhar, Pakistan, and Kumara Dharmasena, Sri Lanka.

Match Referee: Ranjan Madugalle, Sri Lanka.