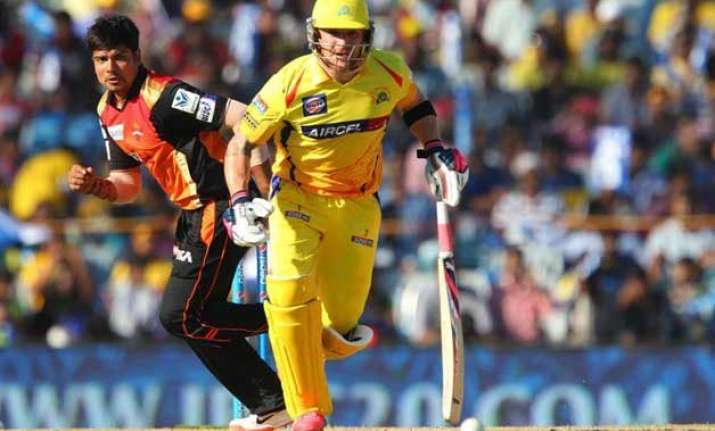 Chennai: Scoreboard of Chennai Super Kings vs Sunrisers Hyderabad, Match 4 of Indian Premier League 2015 played at MA Chidambaram Stadium, Chepauk on Saturday.
Opener Brendon McCullum blazed his way to the season's first century as Chennai Super Kings registered a convincing 45-run victory over SunRisers Hyderabad.
Two-time champions CSK put up a formidable 209 for four and then restricted SunRisers Hyderabad to 164 for six in 20 overs for their second victory in as many games.
SRH got off to a brisk start but after India opener Shikhar Dhawan's dismissal (28) they didn't seem like coming close to chasing down the stiff target despite the valiant effort of Australian opener David Warner (53).
Chennai Super Kings innings: 209/4 in 20 overs
| | | |
| --- | --- | --- |
|  Dwayne Smith |  run out (Boult) |  27 |
|  Brendon McCullum |  not out |  100* |
|  Suresh Raina |  run out (Rahul) |  14 |
|  MS Dhoni |  c Warner b Boult |  53 |
|  Ravindra Jadeja |  run out (Boult) |  0 |
|  Dwayne Bravo |  not out |  0* |
|  Extras |  (lb 7, w 4, nb 4) |  15 |
|  Total |  for 4 wickets |  209 |
|  Overs |  innings break |  20 |
|  Fall of wickets                            |  1-75 (Smith, 8.1 ov), 2-135 (Raina, 13.3 ov), 3-198 (Dhoni, 19.2 ov), 4-198 (Jadeja, 19.3 ov) |                       |
Did not bat: Faf du Plessis, Ravichandran Ashwin, Mohit Sharma, Ishwar Pandey, Ashish Nehra
Bowling
| | | | | |
| --- | --- | --- | --- | --- |
|  Bowler |  Overs |  Maidens |  Runs |  Wickets |
|  Bhuvneshwar Kumar |  4 |  0 |  31 |  0 |
|  Trent Boult |  4 |  0 |  34 |  1 |
|  Ishant Sharma |  3 |  0 |  46 |  0 |
|  Karn Sharma |  4 |  0 |  51 |  0 |
|  Ravi Bopara |  4 |  0 |  29 |  0 |
|  Parvez Rasool |  1 |  0 |  11 |  0 |
Sunrisers Hyderabad innings: 164/6 in 20 overs
| | | |
| --- | --- | --- |
|  David Warner |  c Smith b Pandey |  53 |
|  Shikhar Dhawan |  c Jadeja b Sharma |  26 |
|  Lokesh Rahul |  b Sharma |  5 |
|  Naman Ojha |  c Sharma b Ashwin |  15 |
|  Ravi Bopara |  b Bravo |  22 |
|  Kane Williamson |  not out |  26* |
|  Karn Sharma |  c Raina b Bravo |  4 |
|  Parvez Rasool |  not out |  2* |
|  Extras |  (lb 7, wd 4) |  11 |
|  Total |  for 6 wickets |  164 |
|  Overs |  match over |  20 |
|  Fall of wickets                                |  1-30 (Dhawan, 3.4 ov), 2-46 (Rahul, 5.6 ov), 3-91 (Ojha, 11.3 ov), 4-114 (Warner, 14.5 ov), 5-136 (Bopara, 16.4 ov), 6-150 (Karn, 18.6 ov) |                         |
Did not bat: Bhuvneshwar Kumar, Ishant Sharma, Trent Boult
Bowling
| | | | | |
| --- | --- | --- | --- | --- |
|  Bowler |  Overs |  Maidens |  Runs |  Wickets |
|  Ashish Nehra |  4 |  0 |  31 |  0 |
|  Mohit Sharma |  4 |  0 |  36 |  2 |
|  Ishwar Pandey |  3 |  0 |  26 |  1 |
|  Ravichandran Ashwin |  4 |  0 |  22 |  1 |
|  Dwayne Bravo |  4 |  0 |  25 |  2 |
|  Ravindra Jadeja |  1 |  0 |  17 |  0 |