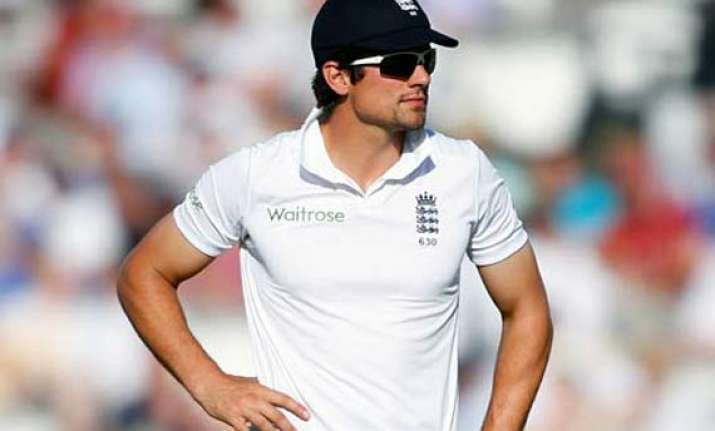 Bristol: England skipper Alastair Cook started playing mind games as he said that a change of format will certainly help the Indian team terming them favourites in the five-match ODI series starting here tomorrow.
"A change of format will obviously do them good. It's not quite the same ground-hog day for them probably," the sarcasm in Cook's statement was not lost as he referred to India's woeful show in the last three Tests of the recently concluded series.
"We've got to remember they're world champions at 50-overs, so they obviously know what they're doing and will probably go into this as favourites. But if we play well, we're hard to beat in our conditions," Cook said on the eve of the first one-dayer.
India lost the five-match Test series 3-1 in embarrassing fashion after losing by huge margins in the last three Tests at Southampton, Manchester and the Oval. This was despite taking a 1-0 lead in the series at the Lord's.
But the change in format should give them more confidence, having completed a 95-run win over Middlesex in the single warm-up game at Lord's on Friday.
Meanwhile, for England, the ODI World Cup in Australia-New Zealand comes into focus as this is their last engagement at home before the quadrennial tournament.
"It depends on how the next few months go," said Cook, referring to that event in February-March 2015.
"Over the last few World Cups, we haven't performed at our best. We've had key personnel changes right at the end - major decisions - leading into World Cups. We want to be a bit more consistent in that.
"We've got a good chance because of the conditions we'll be playing in. It's not sub-continental conditions, where we find it hard because we don't play so much there. It's quite similar to English conditions. So I think we've got a very good chance," the confident skipper said.
English selectors have made changes according to their plans for that tournament, dropping Ravi Bopara and bringing in Alex Hales in his place. Steve Finn also comes in for Stuart Broad who will be having his long-pending knee surgery.