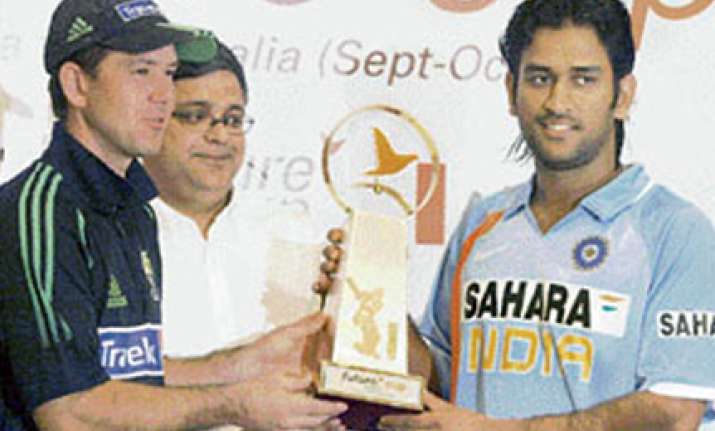 After playing a nail-biting series- opener, rival captains Mahendra Singh Dhoni and Ricky Ponting acknowledge that batting power-plays have become crucial as it can influence the result of a one-day match. 
India lost the first ODI of the seven-match series by a narrow four-run margin against Australia here yesterday and both the captains said that performance during the power-plays can have a bearing on the match. 
Chasing 293 to win, India were quite comfortable at 167 for three at one stage but the script changed when skipper Dhoni opted for batting-power play and ended up losing four wickets in that period. 
"We lost wickets during power-plays, too many in fact. That was the turning point. If you don't have enough wickets in hand you cannot cash in on the power-play," Dhoni said. He also defended his decision to take power-play a little early -- between 35 and 39 overs -- saying that conditions demanded that move. 
He reckoned that in sub-continent conditions the batting power-play can be best utilized against a hard ball, so when ball got changed he opted for it. 
"In the sub-continent you want the ball to be hard as once the bowlers work on the ball they get reverse swing going and once it happens it's difficult to force the pace. 
"The momentum happens when the ball is hard and new. At the end of the day you don't want the difference between balls (remaining) and runs (to be scored) to be around 30 or 35," he reasoned. 
Australian skipper Ponting admitted that his team take power-plays seriously and do adequate planning. 
"We got to get it right as it can cost you a game as you saw it today (Sunday). We have been guilty of it in the last few games that we have played. 
"When we take our Power Play, we have generally lost a wicket in the first over. We lost one (Cameron White) to the second ball of our PP today. India lost one first ball. 
"If you lose wickets in a Power Play, it slows you down and makes it almost irrelevant," Ponting said. Ponting also wondered why batsmen do not play orthodox shots during power-plays but just throw their bat at each and everything. 
"Once the field comes in, you think you have to hit a six every ball. If you still play normal cricket shots, like you do in Test matches, you can still hit the ball through the field and it travels pretty quickly," he said.