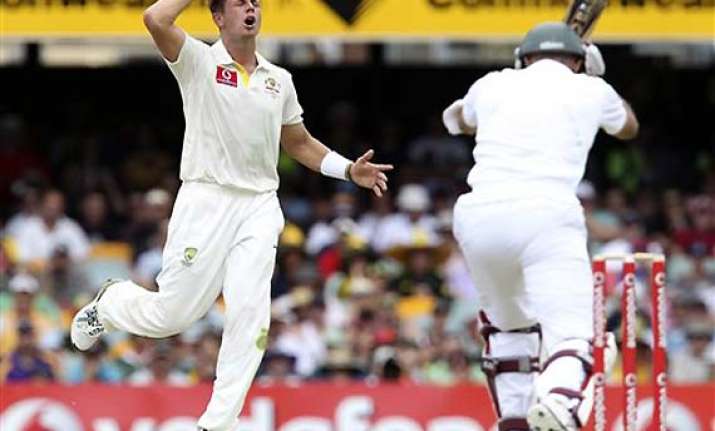 Brisbane, Nov 13: A series opener that was supposed to showcase two fast and furious pace bowling attacks ended with South Africa batting grimly through the last five hours to ensure a draw after Michael Clarke's bold bid for an unlikely Australian win on the last day.
It wasn't because ball was dominant over bat.
Clarke scored an unbeaten 259 -- the highest test score ever at the Gabba -- and then declared after establishing a 115-run lead.
Graeme Smith's top-ranked South Africans had been in a dominant position late Sunday, posting 450 on either side of a washed out second day before having Australia in deep trouble at 40-3.
But the match turned on Clarke's bat -- his third 200-plus innings in seven tests in 2012 -- and his partnerships of 259 with Ed Cowan (136) and Mike Hussey (100).
After resuming Tuesday at 487-4, Clarke declared at 565-5 an hour before lunch, setting up an intriguing last five hours.
In the end, South Africa finished at 166-5 with AB de Villiers unbeaten on 29 and ushering them to safety after the departures of Alviro Petersen (5), Graeme Smith (23),
Hashim Amla
(38), Jacques Kallis (49) and Jacques Rudolph (11).
The Gabba pitch failed to generate much bounce or movement off the seam, with batsmen dominating on a benign surface for most of the test match.
Five batsmen scored centuries, with Clarke and Cowan combining well under pressure and Hussey coming in late to lift the run-rate for Australia after Kallis (147) and Amla (104) joined forces to get the South Africans away to a decent start.
Clarke was impressive, scoring his sixth hundred since becoming test captain last year moving to 1,041 runs from seven tests, at an average of 115.66, in 2012.
"Always nice getting runs," Clarke said, "even more special against the no. 1 team in the world."
The draw meant Australia continued an unbeaten streak at the Gabba that dates back to 1988 and gives Clarke's team a boost in confidence going to Adelaide next week.
"The team showed a lot of character after day one," Clarke said, "so there are a lot of positives come of this test. Unfortunately we didn't get a win, but we can certainly use the momentum that we take from this game to Adelaide."
Australia's James Pattinson finished with five wickets in the match and was backed up by Peter Siddle, who created chances in each innings.
The highly-rated South African pace attack was unusually lacking in penetration, with
Dale Steyn
and Vernon Philander -- the top two ranked bowlers in test cricket -- finishing with one wicket between them and conceding a combined 234 runs from 60 overs.
The bowlers didn't get much help from technology, either, with three dismissals denied when the third umpire was called on to scrutinize replays and ruled no ball for overstepping.
Pattinson bowled Amla on 7 on the last day but replays showed the 22-year-old Australian quick had overstepped the crease.
Kallis had a reprieve in the first innings when Siddle was adjudged to have overstepped and South Africa's Morne Morkel missed out on a legside caught behind against Cowan for the same reason late on Sunday.
South Africa wasn't helped, either, by bowling 23 no balls to Australia, including the key on against Cowan when Australia was in serious trouble late on the third day.
"No balls played a big role in the game," Smith said. "From our perspective, it's not acceptable and the guys know that ... it's something that needs to be improved upon.
"Certainly, potentially 70-4 overnight on day three and there was a great opportunity for us."
Smith said the full day lost to rain on Saturday and the loss of J.P. Duminy, who ruptured his left Achilles in a training accident on Friday and was the team's only genuine spin option in Brisbane, were costly for his team.
"I felt we were ahead of the game going into day four ... we just never quite backed up well enough," he said. "Michael and Cowan played really well, took the game to us, and we didn't quite respond in the way I've got use to our guys responding.
"Our bowling, I know we can certainly raise our level a lot from what we showed in this game, and I'm looking forward to that."
The Australian bowlers finished strongly, taking nine wickets in the first innings and five in the second.
And Pattinson won a personal duel with Smith in a fiery spell where he beat the edge several times Tuesday and exchanged words with the South Africa captain. He finally had him out for 23, getting a thick edge to Rob Quiney at gully.
The Australians ran out of referrals after unsuccessful reviews for caught behind against Amla and Kallis, the latter showing the ball was inches away from the inside edge when Kallis was on one.
The Australians shouted loudly for caught behind decisions off Siddle when Amla was on 28 and Kallis on 5, but had no recourse to the third umpire when their appeals were rejected on the field.
After getting thumped for 26 runs in his first two overs, it was offspinner Nathan Lyon who gave Australia some late hope when he dismissed Kallis and Rudolph to expose the South African tailenders late on the fifth day.
But AB de Villiers held firm to give South Africa enough of a buffer when both captains agreed to finish 11 overs early.
Both squads will have time off before regrouping in Adelaide for the second test starting Nov. 22. The third test starts Nov. 30 in Perth.
"At the end of the day there's no result in this test match," Clarke said. "We have to win this series to get back to being the No. 1 test team in the world, so we have to do our best to push for a win at every opportunity."