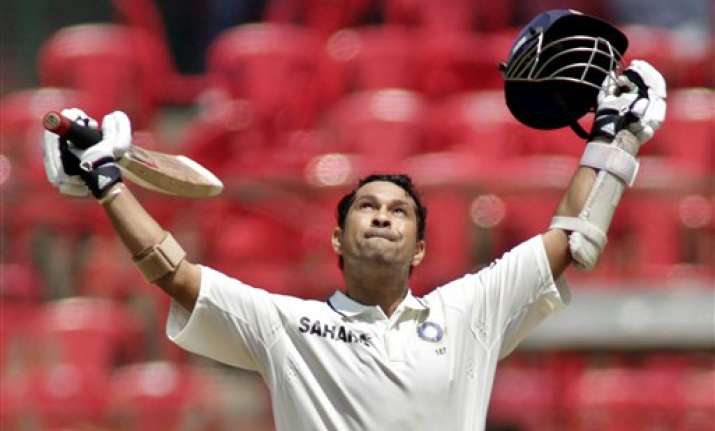 New Delhi, Oct 15 :  As the Commonwealth Games drew to a close, a fresh controversy rocked the event with reports emerging that Australian athletes indulged in hooliganism and damaged property at the Games Village after their cricket team was handed a drubbing in the Test series against India.
Amid reports that some Australian athletes went on a rampage at Village following India's 2-0 Test series win over Australia out of frustration, an Aussie athlete was sent home for disciplinary reasons.
The report said the Aussies also raised slogans against Indian batting icon Sachin Tendulkar, who played a pivotal role in India's victory. 


But the Australian High Commission in India dismissed the reports as as "fantasy" and "baseless".
"It is factually wrong, insulting to Australia's athletes and can only be described as a fantasy," an Australian High Commission statement said here.
However, the Delhi Police confirmed that a washing machine was thrown from the eighth floor of a residential block housing Australians.
Australian Commonwealth Games Association chief Perry Crosswhite confirmed that an Aussie athlete has indeed been sent home from Delhi for disciplinary reasons.
Crosswhite, however, said he would be surprised if an Aussie is found involved in hooliganism and said athletes from other countries, who were in the Australian building at the time of the incident, could be responsible.


External Affairs Minister S M Krishna sought to downplay the incident, saying it was minor.
"It is a minor issue. It should be sorted out. With Australia, we have a very good relationship. We will solve it to the satisfaction of both the parties," he told reporters here.
Delhi Police spokesperson Rajan Bhagat said they have not received any complaint from the Organising Committee regarding this and no case has been registered.
Lt Gen Ashok Kapur, the CWG Village in-charge, said it was no major incident of anybody going berserk, and suggested the athletes were only having "fun".
Referring to the incident of the washing machine being thrown from the eighth floor, he said it happened at around 4 am and that the team management had already apologised for it.
The Australian High Commission said there were indeed some "spirited" celebrations involving the Australian team and a number of other teams at the athletes' village, it said, noting that the athletes were enjoying their stay in Delhi and celebrating their achievements in the Games.
"We can confirm that in the course of those celebrations a washing machine was damaged, though it remains unclear who did the damage, what their nationality was, and whether it was deliberate or accidental," the High Commission's statement said.
However, it said, to suggest that this was a reaction to Australia's loss in the second Test was completely baseless.
"The Australian team's celebration had nothing to do with cricket, or India, or Sachin Tendulkar. Indeed Sachin Tendulkar enjoys enormous respect and affection in Australia. He won the second test for India.
"A recent online poll in Australia's Sydney Morning Herald voted Sachin Tendulkar the greatest batsman ever. Australians ranked him ahead of Don Bradman which is saying something," the statement said.
The High Commission noted that Australia sent its biggest team ever to the Delhi edition of the Games and athletes embraced India and left with wonderful experiences of the people and places that make Delhi the great city that it is. PTI