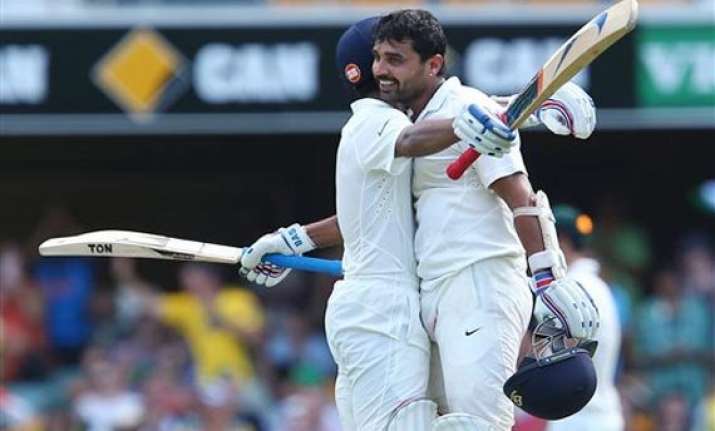 Brisbane, Australia: Murali Vijay scored 144 and shared a century stand with Ajinkya Rahane as India's batsmen dictated terms to an Australian bowling attack that struggled in the heat and fell well short of expectations on the opening day of the second test Wednesday.
Four days after losing eight wickets in the final session of a 48-run defeat in Adelaide, India dominated at the Gabba to reach 311-4 at stumps.
Rahane, who shared a run-a-minute, 124-run, fourth-wicket stand with Vijay, was unbeaten on 75, and Rohit Sharma was not out 26.
Australia's pace attack was expected to exploit the extra bounce and pace that are characteristic of pitches at the Gabba, where Australia hasn't lost since 1988, but the new-look lineup didn't get its length right and the fielding was sub-standard.
Vijay was dropped twice, on 36 and 102, both times by Shaun Marsh off Mitchell Johnson's bowling.
He made the most of his reprieves, equaling Sourav Ganguly's 144 in 2003 as the highest score by an Indian batsman in Brisbane. His fifth test hundred followed two half centuries in Adelaide.
Shikhar Dhawan (24), Cheteshwar Pujara (18) and Virat Kohli (19) all made starts but the complexion of the innings changed after tea, when Vijay and Rahane accelerated the scoring rate against a bowling attack showing signs of fatigue in hot and humid conditions, and missing allrounder Mitchell Marsh, who left the field with a hamstring injury two overs into the second session.
They moved the total from 137-3 to 261 before Vijay stepped down the pitch to take on offspinner Nathan Lyon and got a feint edge to give wicketkeeper Brad Haddin his fourth catch of the innings. Vijay's 213-ball innings contained 22 boundaries, and helped India become the first foreign team in more than 50 years to post 300-plus on day one of a test at the Gabba.
Vijay said India seemed to be better equipped to deal with the sub-tropical conditions, so he decided to ram home the advantage.
"Today was really, really hot and was testing us all," he said. "I could see a lot of bowlers sulking out there. The (post-tea) session was really important for us, and I thought a lot of people are getting tired on their team. I wanted to wait until that time and make use of it."
With skipper Michael Clarke already sidelined with a long-term injury, and veteran paceman Ryan Harris sidelined by a mild leg strain, the Australian injury toll mounted. Josh Hazlewood left the field late with cramps, Mitchell Starc had problems with his back and ribs, and Mitchell Johnson hurt a finger on his bowling hand.
"I haven't experienced it as coach or a player, an eventful day," Australia coach Darren Lehmann said of the injuries. "I thought the first session was OK, the second session very good, third session very poor — it was very hot, but we've got to be better than that in the last session."
Both teams changed captains after last week's series-opener, with Mahendra Singh Dhoni returning from a thumb injury for India, and Steve Smith elevated in the absence of Clarke, who underwent surgery for a hamstring injury.
Dhoni got the upper hand early when he won the toss, elected to bat, and India put on 89 for the loss of one wicket in the first session.
Mitch Marsh took his first test wicket to end the opening stand when he had Dhawan caught behind in the 14th over.
His older brother, Shaun, put down a chance low and to his left at third slip in the next over from Johnson, giving Vijay and India a big reprieve.
Hazlewood snared his first wicket with a contentious dismissal which highlighted India's trenchant opposition to the Decision Review System.
Pujara was given out, caught behind, to a short ball that deflected off his helmet and didn't appear to clip bat or glove as he tried to fend it away. Vijay diplomatically put the decision down to human error.
Hazlewood followed that up with the important wicket of Kohli, who scored centuries in each innings of the first test.
The paceman produced some decent pace and bounce, and Johnson had chances go down off his bowling, but Starc was ineffective after being picked in favor of Peter Siddle, and Lyon leaked runs. Storms predicted for late Wednesday didn't hit before stumps, although rain was again in the forecast for day two.