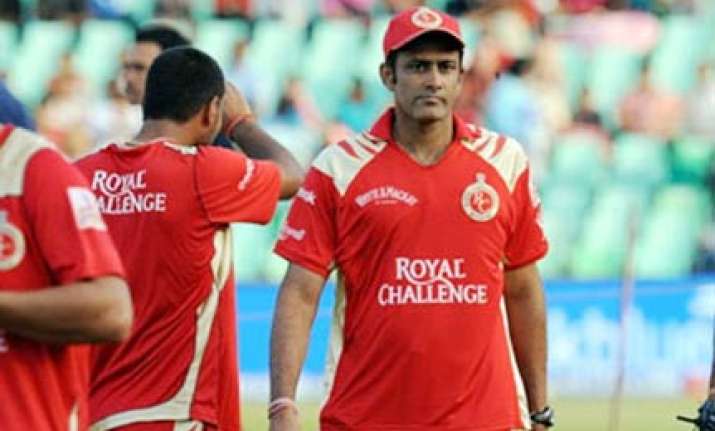 Royal Challengers Bangalore captain Anil Kumble has given broad hints that he is going to join the BJP after the IPL commitments are over, reports Mid Day.
The report said Kumble was keen to make a foray into politics, but the caste card may keep him waiting for some time
At the launch of his book Wide Angle  on Thursday, the 39-year-old Anil Kumble was asked why he was associating himself with politics by hobnobbing with the BJP. Kumble retorted, "I am doing direct politics and am not interested in doing things indirectly."
The cricket icon is the vice-chairman of the state wildlife board with a Minister of State (MoS) rank.  Though Kumble has retired from international cricket, he is the captain of the IPL team Bangalore Royal Challengers.
 It may be recalled that when Kumble scored his Perfect Ten several years ago, it was BJP leader L K Advani who was the first among other political leaders to congratulate Kumble on his feat.  
Rumours of Kumble joining the BJP have been doing the rounds for a while. There was talk of him contesting last year's Lok Sabha elections from Bangalore, something the party later denied. 
However, a source in the BJP said that caste politics was the reason Kumble could not contest last year.
"Kumble wanted to contest from Bangalore Central with a BJP ticket, in the last parliamentary polls. But, caste equations did not allow us to field him," said the source.
H N Ananthkumar, a Brahmin, was running from the neighbouring Bangalore South and Kumble could not be fielded, as he is also from the same caste.
"The problem persists even now," said a senior BJP leader. "It is very difficult to accommodate him in Bangalore city, as we already have a Brahmin MP and a couple of MLAs from the community. But, we are considering his case and I hope we will derive some formula to tackle this issue."
However K S Eashwarappa, state president of BJP, has no ambiguity  when it comes to Kumble's  candidature.   
"We must not take the caste factor into consideration when we are talking about icons like Kumble. He belongs to the sports fraternity and I am happy to have him as our candidate, but we have a lot of time before we start thinking of the next parliamentary polls."
Kumble is on the same page on the timing of his foray into politics. "I will come to active politics that is for sure, but let me play IPL for now," he added. He said he was pro-active as the chief of the wildlife board and he had formulated some game-changing policies that he would reveal shortly, though he was not attending the government office at Visweswaraya Towers regularly.
"You need not attend office regularly when you are doing your work seriously. What counts in the end is the outcome of the work," he concluded.