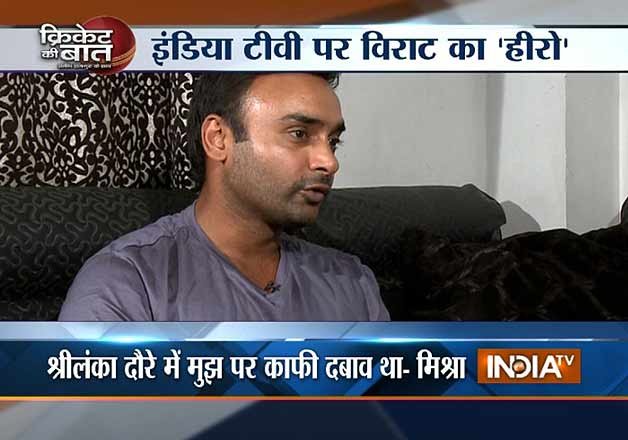 New Delhi: It's been two weeks since India's historic Test series triumph in Sri Lanka after 22 years. There have been many standout performances by the players which led to the series win after trailing 0-1.
The quality performances given by Kohli, Rahane, Pujara, Ashwin, Ishant and Mishra grabbed the eye balls of all the cricket fans across the nation.
There's no doubt that bowlers played a first hand role in this victory. Ashwin finished as the leading wicket taker with 21 wickets while Ishant Sharma's magical spell in third Test was one of his career best shows.
India leggie Amit Mishra, making his comeback after a long 4-year wait, forced the national selectors to re-think on him after finishing up with 15 wickets in the series. He not just contributed with the ball, but was handy with the bat as well at crucial points.
Speaking exclusively to IndiaTV, Mishra said Sri Lanka tour was tough for him as this could be the last chance for him to prove his worth and he's lucky that he performed well.
Here are the excerpts from Amit Mishra's interview:
Q. Despite everybody being aware of your talent, you struggled for a comeback and returned as a match-winner. What are your views on this?
A. It's been a hard time for me. I did whatever I can to improve my bowling. I worked on my fitness and timing which made me strong. I made the use of my experience and analysed the strength and weakness of batsmen. I was focussed onto my technical skills rather thinking who said what.
Q. With three spinners playing in first Test including Harbhajan and Ashwin, how do you managed this pressure?
A. Definitely I was in pressure as I was returning to Test squad after 3-4 years. I took tips from Bhajji, bowling coach Bharat Arun and Ravi Shastri. I played for India A ahead of Sri Lanka tour where Anil bhai (Anil Kumble) helped me a lot. When you are experienced, people expectations are higher and I am happy that could contribute to the team.
Q. You worked on yourself yet you said this tour could be your last one.
A.Yes, it was a do-or-die situation for me. I tried to keep myself positive because I knew that if I do not perform here, I may not return again. I took this series as my last but by God's grace my hardwork paid off with both bat and ball in team's historic win in Sri Lanka after 22 years.
Q. What do you feel about Virat Kohli's role? He really showed a lot of faith in you.
A. Me and Virat have played a lot of domestic cricket together. One good thing about Virat is that he don't show off he's a captain and consult each and every one before taking any decision. He is a very positive skipper and the maturity he showed, are the signs of a good leader.
Q. Team is struggling with injury woes to many players. What do you feel special about this young team whose captain did that what many captains were unable to do?
A. After losing the first Test, team was under pressure but Virat stayed calm and positive. We supported each other inside the dressing room and the positive energy helped us to win the series despite trailing 0-1.
Q. Amit Mishra-Ravichandran Ashwin, a deadly combo! Your views on that.
A. We shared a great bonding and co-ordinated with each other very well. We built a continuous pressure on the opponents and tried not to concede much boundaries.
Q. Aggression is a new thing seen in Team India. Apart from bat and ball, the body language of the players was also changed. Is this a new strategy?
A. We were told to play cricket with bat and ball but if someone abuses us, they'll definitely get it back from us. This is new and energized team India and we will not tolerate such nonsense on the field.
Q. Do you feel this is a new emerging Test cricket team of India?
A. Absolutely! The kind of performance our boys have given shows they want to win for the country at any cost. We have good batsmen, bowlers and we'll definitely be no. 1 soon.
Q. The way Ishant celebrated, did he required a doctor after that?
A. I feel he did have required a doctor. Sometimes you're too much into the game that you don't realise what you are doing. He didn't have any intention to do that but his involvement in the game made him do this. Infact, everybody was involved in the series mentally and emotionally.
Q. After the first series win on the foreign soil in 4 years, now a 70-day South African test awaits you. What do you feel about playing against a team that has not lost a Test series abroad since 2006?
A. South Africa undoubtedly is among the best in the world cricket and beating them would be a big challenge for us. We will pin point our mistakes and try to work on them. We will analyse the strength and weakness of their batsmen like AB de Villiers, Amla and others as they have plenty of experience playing in India in IPL.
Q. Any special strategy or planning against batsmen like de Villiers and Amla?
A. You always need to plan against these kind of players. You need to think a step higher than what they might plan against you. All the strategies will be made when we meet to analyse the proteas.
Q. It depends on the selectors to include someone in the squad. You possess everything a player need in shorter format. Any targets of comeback in ODIs and T20 as well?
A. As a bowler you need to prove yourself everytime. I am lucky that I performed well in World T20, Tests and ODIs and if am selected, I will definitely give my best.
Q. What do you think about the winning chances of India across all the three formats against South Africa?
A. I want India to win but as a player I feel it is difficult but not impossible. We have the best in ODIs, T20s and Tests, we need to believe in ourselves and give out 100% to the team.
Q. How much a good start to a series matter to the team? Will there be any effect of an early loss?
A. A good start always matters but you need to think different for all the three formats in terms of bowling and batting. If we are able to take an early lead on South Africa, we can tackle them mentally as well.